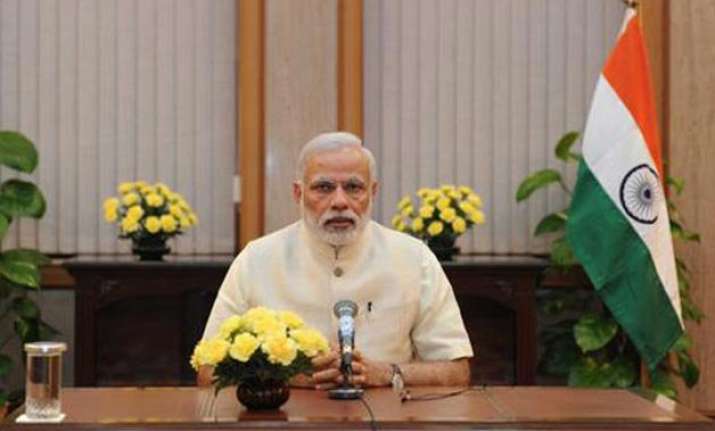 New Delhi: Prime Minister Narendra Modi today said that 'India is with the sisters and brothers of Nepal in its time of crisis following the terrible earthquake'.
"My dear brothers and sisters of Nepal, India is with you in this hour of grief. .... For 125 crore Indians, Nepal is their own. India will do its best to wipe the tears of every Nepali, hold their hands and stand with them," Prime Minister Narendra Modi said in radio programme 'Mann ki Baat'.
Modi said the earthquake that hit Nepal and also affected many parts of India has 'shaken the whole world'.
Sharing his pain over a series of natural calamities hitting the region in the recent past including yesterday's quake in Nepal, Modi said he was anguished and did not feel like going ahead with his radio address today.
"When I spoke to you last month, hailstorms and unseasonal rains had occurred, devastating the farmers. A few days ago, a storm hit Bihar killing many people and causing a lot of damage. And now on Saturday, this devastating earthquake has shaken the whole world," he said.
He said India is assisting with relief and rescue operations in every way it can.
"It seems a series of natural disasters has begun. The quake has also killed many people in different states of India. Property has also been damaged. But the destruction and damage in Nepal is massive," he said, adding he could feel the pain of the people of Nepal as he had himself seen the January 2001 earthquake devastation in the Kutchh region of Gujarat from close quarters.
"I have witnessed from close quarters the destruction of the 2001 earthquake in Kutchh. The first and most important task to bring out alive all those stuck under the rubble. We will spare no efforts to save the lives of as many people as possible. For many people of our country, Nepalis are our own people. Service is the primary duty (Seva Paramo Dharma). This is India's role in the world," the PM said.
Noting that the immediate priority was to rescue as many people as possible who are trapped under debris, Modi said the relief and rehabilitation work after the rescue operations will go on for a long time.
"There could still be people alive under the debris and they have to be rescued. We have sent teams of experts. Along with them, we have also sent sniffer dogs specially trained to sniff out those alive from under the rubble. Our focus will be to rescue as many people alive as possible," the Prime Minister said. 
While talking about the calamities, the Prime Minister also spoke of war-torn Yemen and highlighted how the Indians along with the nationals of 48 other countries were evacuated safely from there.
"They were evacuated in the midst of firing and bombings. It was a difficult task but we did it," he said and hailed the role of External Affairs Ministry, IAF and Navy for carrying out the operation efficiently in a coordinated manner.
He said the world has praised India for this effort and the endeavour has left an indelible imprint.
While hailing the courage of Indians, Modi mentioned that during the World War-I between 1914-1918, 15 lakh Indian soldiers had put their lives at stake by participating in it, "not for themselves or to seize anybody's land but just to serve".
74,000 Indian soldiers were martyred and 9,200 were decorated, 11 of them with the highest honour of Victoria Cross, he said and recalled that he paid his homage to them recently when he visited the memorial in France.
"On the basis of such cases, we can tell the world that this country can do anything for world peace, well-being and development, even sacrifice lives. Even in the United Nations, the role of Indians in peacekeeping is mentioned the foremost. This is a matter of pride for us," the Prime Minister said.
He also expressed pride at the achievements of "two daughters of India" -- Saina Nehwal who became the world number one in badminton and Sania Mirza the world topper in doubles tennis.
While congratulating them, Modi also expressed indignation at "some people losing their balance" at the loss of India in the cricket world cup semi-finals, saying: "My countrymen, this is not good. There is no sport in which there is no loss .... If our players lose sometime, then we should keep their morale high in that hour of crisis."
"We should learn from defeat. I am sure we will take lessons from our defeat in future, won't lose our balance instantly and get into a blame game," he said.
Modi said his government would continue to move ahead for the welfare of everybody, whether they be Dalits, down-trodden, the deprived, tribals, villagers, farmers, poor or small traders. He also wished well the students appearing for the board exams.