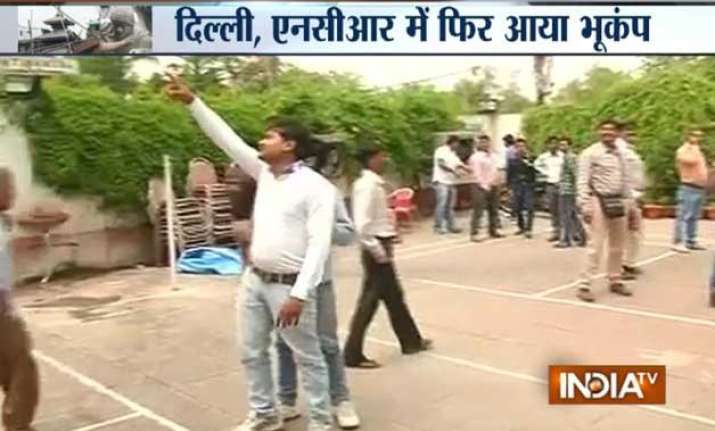 New Delhi: A high-intensity earthquake today jolted Nepal and Northern India once again. The magnitude of quake was measured 6.9 on the Richter scale. 
The aftershock was registered 17 kilometres south of Kodari - 114 kilometres north of Kathmandu - near the Tibet Autonomous Region of China.
The US Geological Survey said that the latest aftershock hit at a shallow depth of 10 kilometres at 12:39 IST.
The tremors, which were felt in Bihar, Uttar Pradesh, Rajasthan, Haryana and Punjab, triggered panic and forced people to rush out of their houses and offices. There were no immediate reports of loss of life or damage to property in Delhi.
A climber Jim Davidson said he felt the aftershock at Camp One on Mount Everest. "Just had our biggest aftershock yet here at C1 on Everest. Smaller than original quake but glacier shook & avalanches," he tweeted.
Meanwhile, Prime Minister Narendra has convened a high level meetinng at 03:30 pm to assess the situation. 
Yesterday, 7.9 quake had hit Nepal and several parts of India. The death toll in Nepal from the devastating earthquake mounted to 1,911 today as rescue efforts intensified. In India, the powerful quake has left 53 people dead.
NDRF Chief OP Singh has rushed to Nepal in order to coordinate operations of the Indian rescue forces and local authorities in the quake-hit country.
Singh will be joining the seven National Disaster Response Force (NDRF) teams which have already landed in Kathmandu.
In view of the aftershocks, all relief operations headed to Kathmandu have been kept on hold till 4 PM. The tremors, which triggered panic among the people, came a day after a devastating temblor killed over 2,000 people in Nepal.
"All movement to Kathmandu kept on hold till 1600 hrs due to fresh tremors in Nepal," Defence Ministry spokesperson Sitanshu Kar said.
IndiGo and SpiceJet flights did not land in Kathmandu and returned as ATC personnel at airport there were evacuated following aftershocks.