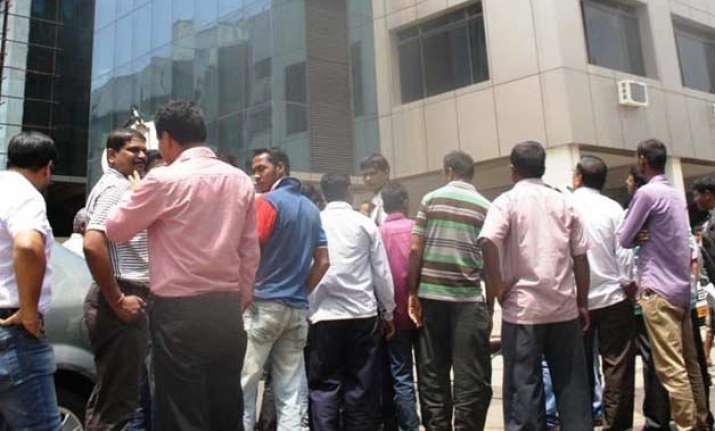 New Delhi: Panic gripped people across North India after fresh tremors were felt today. The fresh aftershock forced the panicked residents to come out of their homes and offices in Delhi.
The tremor, which lasted for a second, was felt around 12:42 pm. In capital, people were seen waiting on roads. DMRC also stopped Metro services for a brief period.
There were no immediate reports of loss of life or damage to property in Delhi.
Today's quake was 6.9 on the Richter Scale in Nepal at a depth of 10 km with epicentre at Latitude 27.6 degree North and Longitude 85.9 degree East, Met office said.
Tremors were also felt in Uttar Pradesh, Bihar, Jharkhand, Madhya Pradesh, West Bengal and north-eastern states.
In Patna, people ran out of their homes and assembled on the streets. Several parts of Uttar Pradesh bordering Nepal also experienced tremor.
In Kolkata, tremor was felt in different parts of the city especially in Behala, Garia, Kidderpore, Lake Town, Salt Lake, Dalhousie and Park street areas. Metro services in the city were temporarily suspended. A police official said that they had not received report of any casualty in the city.
Apart from Odisha capital Bhubaneswar, the tremors were felt in Cuttack, Jagatsinghpur, Kendrapara, Khurda and other areas which had also been jolted by yesterday's earthquake. Shaken by the fresh tremors, panic-stricken people moved out of buildings, particularly multi-storied and high-rise structures to open areas.
Two fresh tremors shook Assam today, though there was no immediate report of any casualty or damage to property. The first tremor, which lasted for a second, was felt around 1242 hrs and the second one was felt after a few seconds in almost all districts of the state, officials said. The quake shook buildings, rattled windows in houses and swayed electric poles.
Yesterday, 7.9 magnitude quake jolted Nepal and several North Indian states. In Nepal, the death toll has crossed 2000 while in India 53 people have lost their lives. Quake survivors in Nepal slept outside their houses last night amid an endless series of aftershocks that continued to roil the area.
After the Nepal earthquake, the IMD registered almost 19 aftershocks on Saturday stoking more fear among people.
"More than two and a half dozen aftershocks of magnitude four and above have been observed. These kinds of aftershocks are likely to continue for a while, so people should take precautions," India Meteorology Department director general LS Rathore said.
At least 38 Indian cities comes under  high-risk seismic zones with almost 60% of the subcontinental landmass vulnerable to earthquakes and moreover India's hastily-built cities are in danger of great damage from earthquakes.