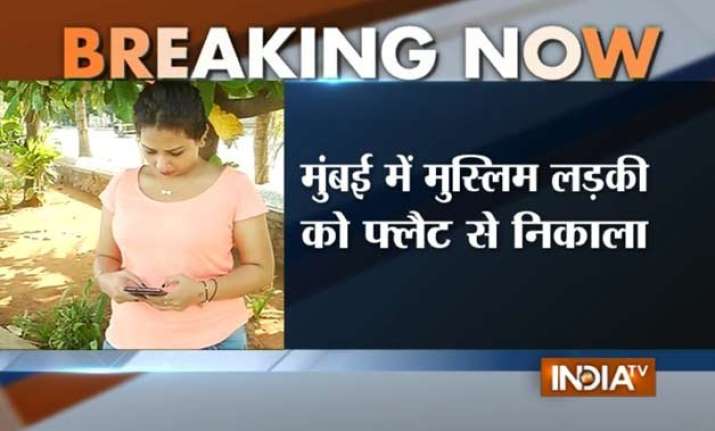 Mumbai: In a shocking case of religious discrimination, a young Muslim woman was thrown out of a Mumbai apartment because of the faith she follows.
This comes just a few days after a young Muslim man was denied a job because of his religion.
A young girl named Misbah Qadri, who belongs to Gujarat, has alleged that she was asked to vacate the flat in Sanghvi Heights in Vadala East area because of her religioun. This is not the first time something like this has happened to Misbah as she claims that in the past too, she has faced religious discrimination.
Giving the detailed account of her ordeal, Misbah said, "After a week of my stay, they asked to vacate as Sanghvi Heights does not allow Muslim tenants."
A day before she was to shift in her newly rented flat, the broker had asked her not to come as they would not allow Muslim tenants. She argued that she did not have a place to live and can not get a place on such a short notice.
Tale of a Kashmiri Muslim, who was denied flat in Gurgaon because of her religion!
Misbah was only allowed inside the building when she gave an "NOC" (No objection certificate) that she herself would be responsible for any harassment she faces.
"They asked me to give them an NOC that for any harassment and trouble I face from the building for being a Muslim, the owner, builder and broker would not be held responsible," Misbah said.
Saghvi Heights was not the only building where such a thing happened. When Misbah went to see a PG accommodation in the area, she was asked awkward questions from the broker and was told not to reveal her identity.
"The broker asked if I wear Muslim clothes as I am a Muslim. I asked him to explain  what Muslim clothes exactly are? He asked me if I wear 'Burqa' and when I said no, the broker said that he would not inform the society of her religion," added Misbah.