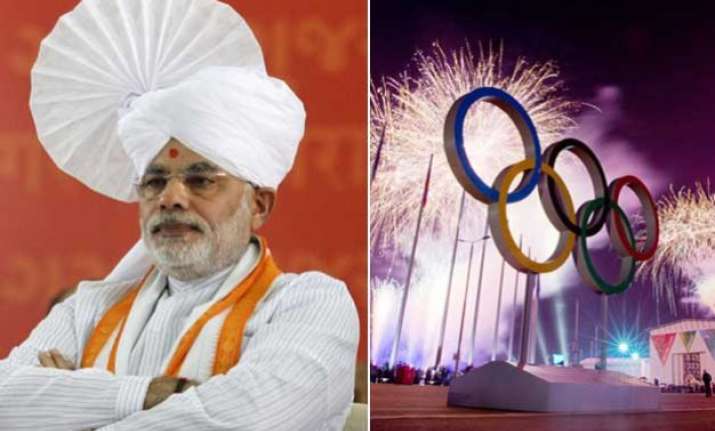 Delhi's poisonous air: Blame game starts between central and state governments
Delhi's air quality is becoming poisonous but instead of finding an immediate solution, both central and state governments seem to be busy settling political scores with each other.
This is because the city government and the Central government have started blame game for delaying the action to contain growing air pollution.
Narendra Modi sets his eyes on 2024 Olympics, pitches Ahmedabad as the venue
It seems that India has set its sight on hosting the 2024 Olympics. The venue, if India manages to win the bid, could be Ahmedabad.
Quoting its Sources, a  DNA report said that there are plans to make a formal bid to host the Games in Ahmedabad when the International Olympic Committee (IOC) president Thomas Bach arrives in New Delhi later this month on an official visit to meet Prime Minister Narendra Modi.
I won't reply to a person with 'narrow mindset': Sonia on Giriraj's racist remark
Congress President Sonia Gandhi today refused to respond to the controversial remarks made against her by union minister Giriraj Singh.
"What did he say? I think I should not reply to persons with such narrow mindset (neech mansikta)," Sonia Gandhi said.
Giriraj Singh kicked up a major row yesterday with his racist remarks when he wondered whether Congress would have accepted Sonia Gandhi's leadership if she was not white-skinned.
'Moment truly painful', says IAS officer Ashok Khemka after his 46th transfer
IAS officer Ashok Khemka was transferred for the 46th time when the BJP government in Haryana issued orders to shift him from present post of Transport Commissioner and Secretary in the Transport Department to a defunct position as Secretary and Director General in the Archaeology and Museums Department.
Woman posing as IAS officer claims Mussoorie academy's deputy director gave her fake ID
A woman accused of posing as an IAS officer at the country's premier training institute for civil service officers, has claimed that the academy's deputy director Saurabh Jain issued her the fake ID to facilitate her stay at the Mussoorie-based academy.
The issue, however, became public only after the institute filed a police complaint against the woman, a native of Muzaffarnagar in neighbouring Uttar Pradesh.