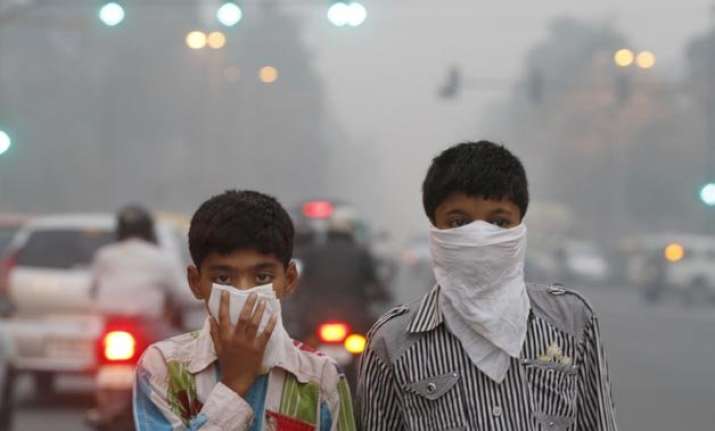 New Delhi: Delhi's air quality is becoming poisonous but instead of finding an immediate solution, both central and state governments seem to be busy settling political scores with each other. 
This is because the city government and the Central government have started blame game for delaying the action to contain growing air pollution. 
The menace has now become a subject of political wrangling with two sides writing letters accusing each other of ignoring their respective demands.
A day after Union Environment Minister Prakash Javadekar slammed the AAP government in Delhi for not submitting an action plan to contain growing air pollution, the Kejriwal led government on Wednesday sent the Centre a rebuttal.
In a letter to Javadekar, a day after the Union Minister exhorted the Delhi government to act against air pollution, Delhi's Environment Minister Asim Ahmed Khan said that an action plan to improve air quality was sent to the Union Ministry in the month of February.
He further told Javadekar that in a follow-up to that, the departments concerned, including DDA, MCD, NDMC, Delhi Police, etc., have been requested to prepare time-bound implementation plans. 
The departments concerned are working on the action points identified for them, Khan added. 
Javadekar had on Tuesday said Delhi government had assured his Ministry that it would submit an action plan till March 31, but added that it has not received any plans so far.
"It is pertinent to mention that air pollution does not recognise geographical boundaries. At any point, air pollution is caused by several sources, even from long distances. Since the NCR is a contiguous area with high-population density and multiple pollutant sources, it is difficult to pinpoint and isolate the source of pollution in Delhi alone," Khan said.
According to Delhi government, crop residue burning also contributes to high levels of pollution in Delhi. There are reports about scientific studies which indicate that Delhi is receiving pollution from neighbouring towns and industries present in NCR.
Khan requested the Union Minister to convene a meeting of various stakeholders in Delhi-NCR, saying, "Several towns of Haryana and Uttar Pradesh fall within NCR... May I request you to ask them to set-up joint check posts well within their territories to ensure that overloaded vehicles can be checked and turned back before they enter Delhi." 
He also called for these states to prepare an action plan on the lines of the one being drawn up for Delhi.
Delhi government also requested the Union Environment Ministry to take up the initiative of coordinating source- specific pollution control activities in the NCR to improve the air quality not only in Delhi, but in the entire area.