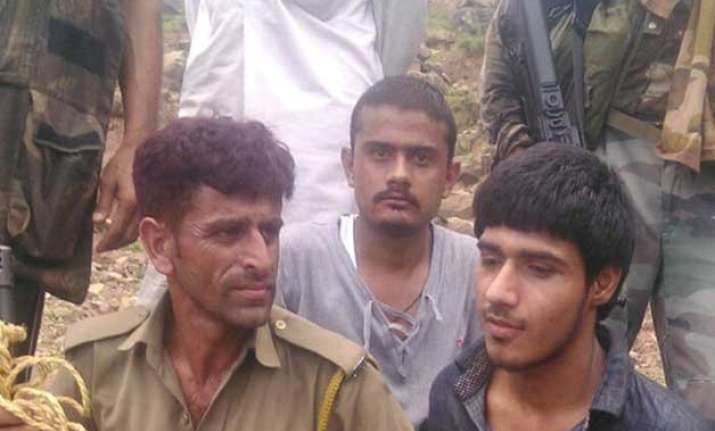 New Delhi: On Thursday, a day after the terrorist attack in Uddhampur in which two BSF men were killed, the Ministry of Home Affairs handed over the investigation of the arrested terrorist Muhammad Naveed to the National Investigation Agency (NIA).
As per the intelligence sources and police, the alleged Lashkar-e-Taiba terrorist had undergone three months of indoctrination and combat training at the Lashkar's Markaz Taiba camp in Mansehra. This is the same camp where Ajmal Kasab, one of the terrorists caught in 26/11 Mumbai attack, was trained.  
After the training he was sent across the Line of Control (LoC) in April.
As per an Indian Express report, sources have revealed that Naveed was to serve with the organization's South Kashmir commander who operates using the name Qasim Khan.
As told further, he was pushed across the LoC through the Baba Reishi area of Tangmarg where he hid out in the Lashkar facilities of Pulwama and Tral, in southern Kashmir awaiting further instructions.
As per the police sources, he was particularly instructed to attack military convoys on the Jammu-Srinagar highway and was transported for this purpose in a truck bearing the licence plate number JK13 2587.
Speaking to the daily, the Jammu and Kashmir DGP K Rajendra said that there was no evidence that Naveed had participated in any prior attack.
It is learnt that Naveed was born in 1995 to a landless peasant Muhammad Yakub who makes a living working in fields and construction projects in Ghulam Mohammadabad, Faisalabad.
Naveed had also told the police that he failed to clear fifth class examinations at a local school and after that did a number of jobs however was not able to get a regular employment. He also told that his father often used to beat him which made him to run away from home.
The youngest of four, Naveed had claimed that his oldest brother, Muhammad Nabil works at the Government College University in Faisalabad.
In an interview to The Hindustan Times on Thursday afternoon, Muhammad Yakub introduced himself as Naveed's "unfortunate father".
"The Lashkar is after us. They probably wanted him dead and not caught alive. Please spare him," he was quoted as saying.
A senior intelligence official said, "Like a lot of the Lashkar rank and file we've questioned in the past. Naveed was the family failure. Perhaps the gun gave him a sense of dignity and power that he lacked in his life."
In early 2014, Naveed told police, he began attending meetings of the Tablighi Jama'at, an ostensibly apolitical proselytizing order that has, however, often served as a stepping stone for many recruits to terrorist groups like the Lashkar. He met a member of the Jama'at-ud-Dawa, the Lashkar-e-Taiba's parent organisation, at one Tablighi Jama'at religious congregation, and was persuaded to join the organisation.
After this induction, he underwent training in Daura Aam and Daura Khas, the group's basic and advanced military training courses, in Mansehra in PoK from August to September 2014.
As told by the sources, he had told the police that lectures and films were shown at the camp, claiming Islam was being stamped out in Kashmir. This is what strengthened his determination to fight.
On Thursday, the J&K government accorded sanction to prosecute him under Sections 120 and 121 of the Ranbir Penal Code which provide for death penalty to the accused if the charges levelled are proven.
Police sources also said, "They were looking for something else and it was a chance that the BSF bus happened to pass from there and they attacked it".