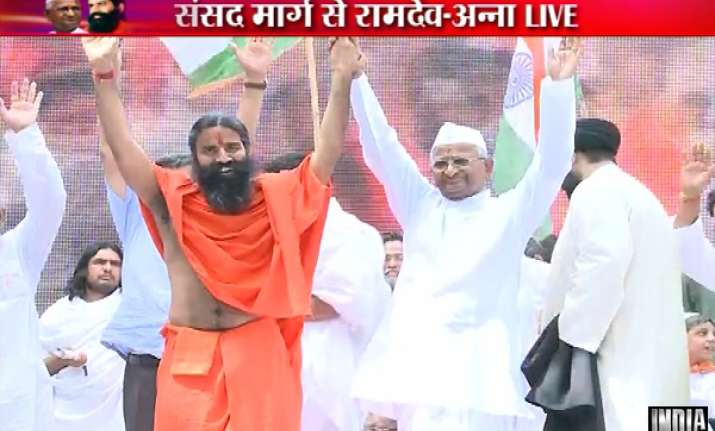 New Delhi, Jun 3: Terming Prime Minister Manmohan Singh an "honest person", yoga guru Ramdev today asked him to make his Cabinet "corruption free."
He threatened the government with a "fight to the finish" by August for bringing back black money stashed away abroad as also against corruption.
"The Prime Minister was forced to give statement on illegal mining. We all know that Manmohan Singh is a honest person and we all respect him. But people expect him to make his Cabinet corruption free...Please fulfil your democratic duties," Ramdev said at Jantar Mantar here at the joint one-day fast with Anna Hazare.
Recalling Singh's statement that hunger and malnutirtion are a 'national shame', he said mere statements will not solve the problem.
Referring to the issue of black money, he alleged that Rs 400 lakh crore of Indian money was stashed abroad and if the amount was brought back to the country, the nation would become "far superior" to China and the United States. 
"We need to bring back black money. I appeal to the people of the country to join this fight. We are intensifying this fight. From today, we are intensifying our protest to bring back black money stashed abroad and want all of the countrymen to be part of the fight to finish by August," he said before the start of the fast.
He claimed that FDI in India worth Rs 20 lakh crore holds the "key" to people involved in stashing black money abroad.  "If the government names the actual owners of the FDI, the puzzle to black money will be solved," he said.
Seeking answers to the fall of the rupee and dipping GDP from Finance Minister Pranab Mukherjee, Ramdev said the Indian economy will be strengthened if the black money is brought back and the youth are given ample employment opportunities. 
Recalling the police crackdown on his supporters last year, Ramdev claimed it was "Ravan lila" played out at the Ramlila grounds.
"Even Mahatma Gandhi had said that India needs its own laws. But we still have British era laws like the one on land acquisition and the Police Act. We need swadeshi laws and remove the archaic laws," he said.
The yoga guru wondered why Team Anna and his followers are dubbed as "villains" when they speak against corruption and Lokpal as a mechanism to deal with it when Mahatma Gandhi was most vocal against graft.
He claimed efforts by the government to tarnish the image of Team Anna members and his aides had failed to break the movement against corruption.
"Whenever we talk of corruption, those in the power and leaders of the ruling party maintain that laws are not made on the streets...We are not against anyone...There is no family feud. All we need is a corruption-free India," he said.
Read more:
Timeline of Ramdev's movement against black money
Ramdev snubs Arvind Kejriwal disapproving his comments against PM
Lokpal will create fears of law as in UAE, says Kiran Bedi
Disgruntled volunteer at Ramdev fast tries to commit suicide