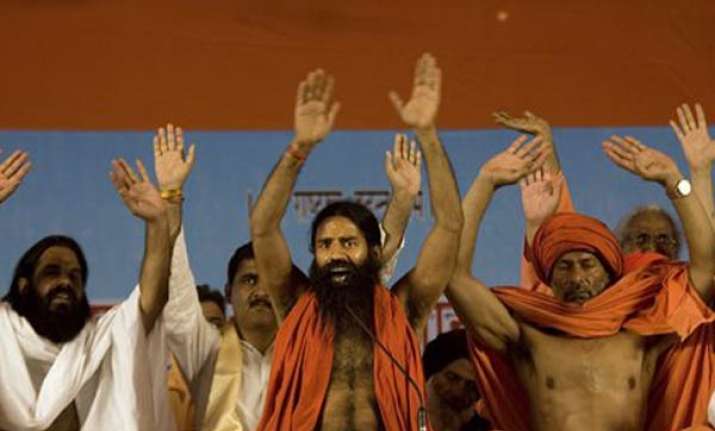 New Delhi, June 3: It was on September 3, 2010  on Janmashtami Day that Swami Ramdev, who had been focusing on the propagation of yoga among thousands of his followers, raised the issue of thousands of crores of black money stashed away in offshore bank accounts by Indians.
He demanded that the ill-gotten money stashed abroad be brought back.
The yoga guru  started the first phase of his Bharat Swabhiman Yatra from Dwarka on Sept 3, 2010 to cover 300 districts.
Ramdev launched his movement with the aim of making it a political tool, and claimed that his outfit would hold the key to voters' choices in most of the 543 Lok Sabha constituencies.
In April 2011, in a lateral development, Anna Hazare and his team launched a movement at Jantar Mantar to press for the demand of a Jan Lokpal, which caught the imagination of India's burgeoning middle class, who participated in large numbers.
Ramdev attended that gathering amidst applause, but chose to strike on his own two months later.
In the first week of June, the UPA government sent four of its senior ministers led by Pranab Mukherjee to persuade Ramdev to withdraw his indefinite fast at Ramlila Maidan.
The prime negotiator was Union minister Subodh Kant Sahay. The timeline:
June 1:
Ramdev lands in a private jet in Delhi. Four central ministers, led by Finance Minister Pranab Mukherjee, rush to the airport to hold talks with him.
June 2:
Ramdev remains adamant on going ahead with a fast from June 4 at New Delhi's Ramlila Ground.
June 3:
Senior union ministers make a last-ditch effort to persuade Ramdev to call off his proposed hunger strike: hold a meeting with him. The talks fail.
June 4:
Ramdev goes ahead with his hunger strike. Claims government agrees on his demand to get back black money stashed abroad, but wants a written assurance. Minutes later, human resource development minister Kapil Sibal claims that Ramdev had promised a token strike and reveals a handwritten letter of his close aide.
June 5:
Hundreds of police personnel swoop on the protest venue early Sunday and remove Ramdev and his followers. Ramdev is taken to his ashram in Haridwar.
June 6 and 7:
  Ramdev continues fast in Haridwar.
June 9:
Ramdev defends his statement of arming supporters, saying his statement was taken in the wrong context. He also clarified he was not training Maoists, but nationalists.
June 10:
The fast continues. Doctors monitoring him say Ramdev's "weight loss" and "low pulse rate" were causing concern. Ramdev rushed to a Dehradun hospital after his condition deteriorates. His close aides stress fast is on.
June 11:
Appeals are made by spiritual leaders to call off the strike.
June 12:
Ramdev calls off his hunger strike after spiritual and religious leaders, including Sri Sri Ravishankar, request him to do so. But he vows to fight corruption until his last breath.
September 20:
Ramdev launches the second phase of his Bharat Swabhiman Yatra from Jhansi.
May 1, 2012:
The yoga guru launched the third phase of hsi Bharat Swabhiman Yatra from Durg, Chhatisgarh on May Day.
June 3:
Ramdev sits on a daylong fast in Delhi with Anna Hazare