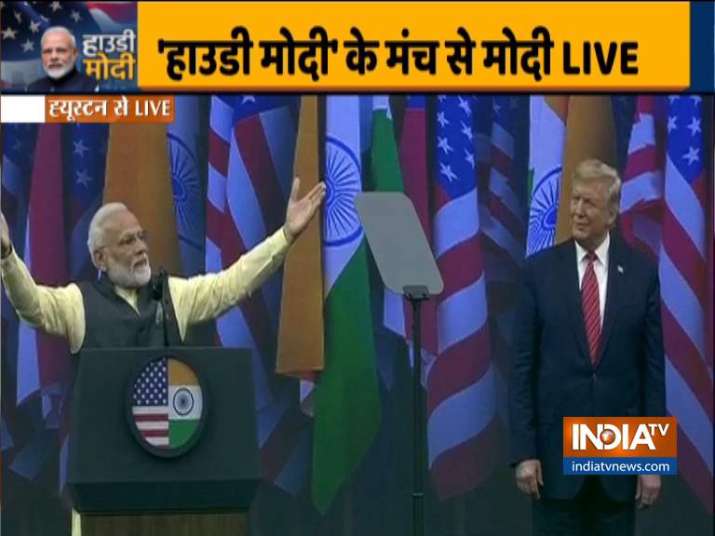 AB KI BAAR TRUMP SARKAR! PM Modi said at the Howdy Modi event in Houston on Sunday. He went all out praising US President Donald Trump. Presidential elections are due in the United States in 2020. 
Modi introduced Trump to Indian-American community, describing him as a "special person". I admire President Trump for his sense of leadership, passion for America and concern for every Americans, the prime minister said. 
Trump's presence at the Howdy Modi event is largely being seen in the backdrop of Presidential elections in 2020. Trump can reap plum political dividends for himself if he manages to woo the affluent Indian-Americans. 
"The words of President Trump, 'Ab Ki Baar Trump Sarkar', rang loud and clear," said PM Modi, pausing strategically, after saying "Abki Baar Trump Sarkar".
He said the US President's presence on the stage was a testimony to the strong friendship between their two countries.
"This morning in Houston, you can hear the heartbeat of this great partnership in the celebration of the two largest democracies. You can feel the strength and depth of the human bonds, between our two great nations.
"People are at the heart of the relations, from Houston to Hyderabad, from Boston to Bengaluru, from Chicago to Shimla, from Los Angele to Ludhiana, from New Jersey to New Delhi, hundreds of millions are glued to their TV, even though it is rather late on a Sunday night in India.
"Millions around the world in different time zones are with us today, they are witnessing history in the making.
"Mr President, you had introduced me to your family in 2017, and today I have the honour to introduce you to my family," Modi said to loud cheers.
"Over a billion Indians and people of Indian heritage around the globe, ladies and gentlemen I present to you my friend, a friend of India, a great American President Mr Donald Trump."
VIDEO: PM Modi says 'Ab Ki Baar Trump sarkar'
ALSO READ | Live Streaming, Howdy Modi: Watch PM Modi, Trump address in Houston online
ALSO READ | Picture of the day: Modi-Trump share warm hug, handshake at Howdy Modi event