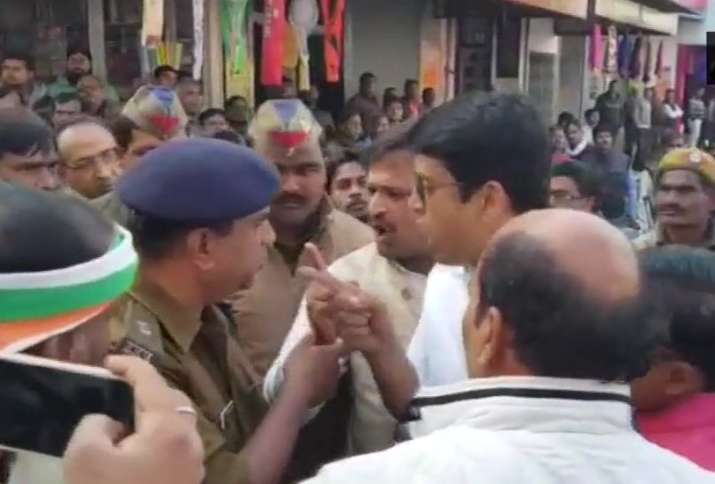 Scuffle broke out on Monday between BJP and Congress workers near the venue of Rahul Gandhi's meeting in Raebareli district. Congress MLC Deepak Singh too was seen engaging in a heated argument with police officials at the site. 
Workers of both parties clashed reportedly after BJP supporters attempted to block the way of Congress President's convoy and protested with banners and placards. 
Rahul Gandhi today began his two-day tour of Uttar Pradesh, the first after becoming the Congress president, with a visit to a Hanuman temple en route Amethi from Lucknow.
Watch the full video here:
The Congress president offered prayers at the Churva Hanuman Mandir on the Lucknow-Rae Bareli road hours after landing in the state capital where enthusiastic party workers greeted him with garlands.
After offering prayers, the 47-year-old Rahul Gandhi, donning a spotless white kurta-pyjama, came out porting a bright vermilion 'tilak' on his forehead.
His visit to temples is seen in the political circles as an attempt to dump the BJP's criticism that he went temple-hopping during the Gujarat campaign only to garner votes.
Rahul Gandhi had visited around 20 temples across Gujarat during the assembly poll campaign as part of a conscious approach to counter the ruling BJP.
After the results were out, the Congress president prayed at the Somnath Temple.
Describing himself as a Shiv-bhakt, Rahul had explained that he was praying for the well-being of Gujarat during these visits to the temples.