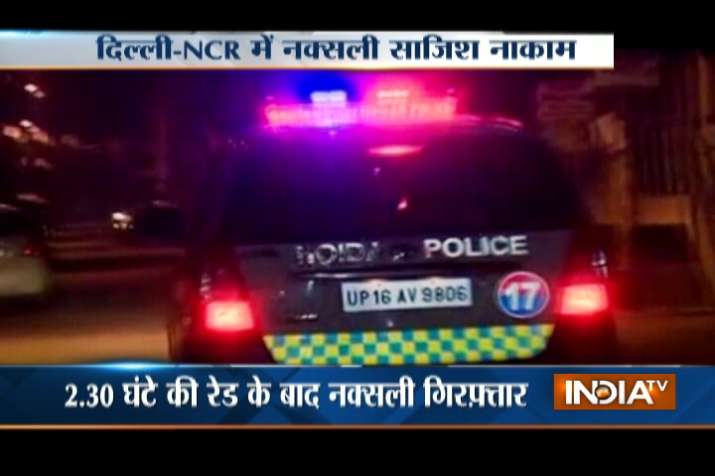 Anti-Terrorism Squad (ATS) of the Uttar Pradesh Police has arrested nine suspected naxals in Noida and recovered weapons from their possession. 
Six suspected naxalites were arrested from Hindon Vihar in Noida's Sector 49 on Saturday evening, while three others were arrested from another location in a late night operation. 
Six pitols, 50 cartridges and bomb-making material were recovered from the location. 
Aseem Arun, IG, ATS confirmed the arrests and said, "They are adept at making bombs and were planning some incident in the Delhi-NCR region. Interrogation is still underway."
Those arrested have been identified as Pawan of Madhubani in Bihar, Ranjit Paswan of Chandoli in UP, Sachin Kumar of Dankaur in Greater Noida, Krishna Kumar Ram from Sasaram in Bihar, Suraj of Bulandshahr in UP, and Ashish Saraswat of Aligarh in UP.
Identity of other three is not yet clear. 
They are allegedly linked to a Naxal unit from Latehar in Jharkhand, said sources.
They have been living in the apartment for at least a month and were planning a major operation in Delhi-NCR area, sources said.
"One of those arrested had been on the run for nearly four years. He has links with some Naxalite attacks. After he was traced, the other were arrested from Hindon Vihar. Initial investigation reveals that they were living in the area for the last 2-3 months," said a senior police officer.
Jharkhand IG (Operations) M S Bhatia said: "We have got information about the arrests. We are in touch with our counterparts in Uttar Pradesh and verifying the identity of the accused."
Following the arrests, ATS have started raids in several places in UP, Bihar and Jharkhand in coordination with local police.