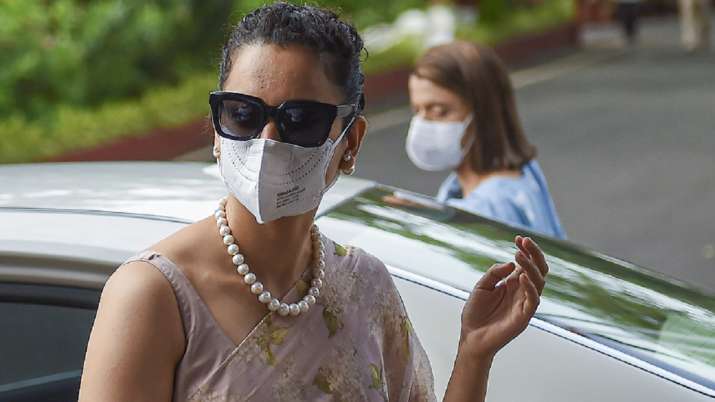 A poster is doing the rounds on internet showing Bollywood actress Kangana Ranaut's photo along with PM Modi, Home Minister Amit Shah, BJP's working president JP Nadda, former Maharashtra CM Devendra Fadnavis and other BJP leaders. Written in Marathi, the poster says Kangana has been made BJP's spokesperson and is being welcomed by top leaders of the party. However, the image is fake as there is no such development that the actress has joined the BJP or appointed as the spokesperson of the party.
Meanwhile, the face-off between Kangana Ranaut and Shiv Sena-led Maharashtra Vikas Agadi (MVA) government still continues. Dramatic events took place in Mumbai on September 9 when a part of Kangana's Bungalow in the city was demolished while the actress was on her way back to Mumbai. BMC said it demolished illelegal encroachment in the house.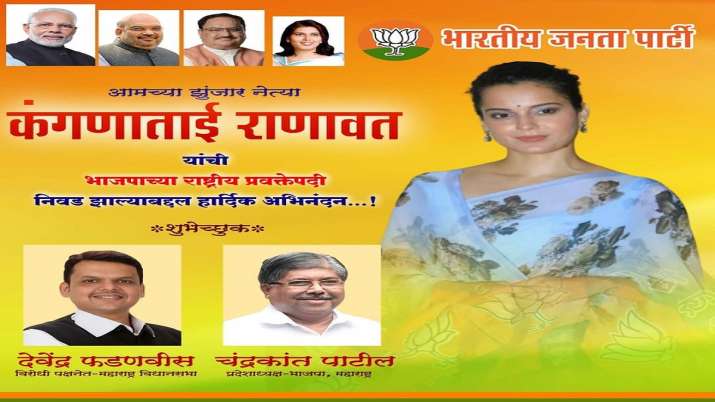 However, Kangana lambasted on the Maharashtra government and filing a case of compensation amound of Rs 2 crore.
Earlier on September 15, a BJP MP condemned the demolition of Bollywood actor Kangana Ranaut's office in Mumbai, saying the Shiv Sena, which was formed on the ideals of Chhatrapati Shivaji Maharaj, has become the "Congress Sena".
The Sena-led Maha Vikas Aghadi government in Maharashtra, which also has the Nationalist Congress Party and the Congress as coalition partners, is facing criticism over the partial demolition of Ranaut's office in Mumbai's Bandra by the BMC recently. The actor was also involved in a verbal spat with the Sena.
Raising the issue in the Lok Sabha, Ram Swaroop Sharma, an MP from Himachal Pradesh, also thanked the central government for providing Y-category security to Ranaut. He said the demolition at her office was carried out in her absence.
"She was threatened and asked to leave Mumbai. The brave woman faced the threats and went to Mumbai from Manali," Sharma claimed.
ALSO READ | Anurag Kashyap opens up about his struggle with drugs, claims Ravi Kishan used to smoke weed
ALSO READ | Himani Shivpuri discharged from hospital days after COVID-19 diagnosis