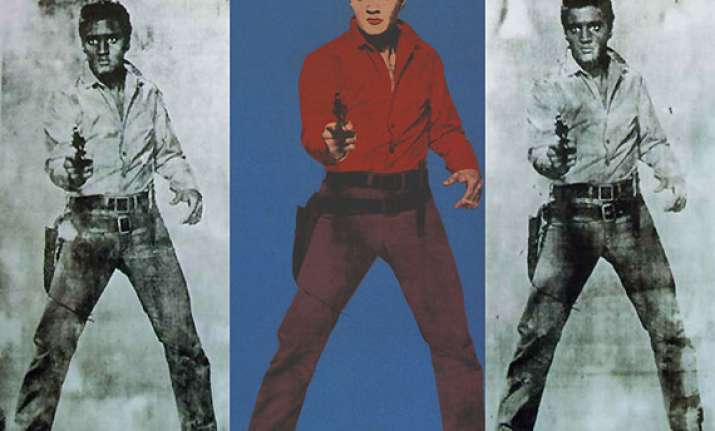 New York, Mar 24:
An Andy Warhol portrait of Elvis Presley depicted as a cowboy is being auctioned in New York City and is expected to sell for between 30 (m) million and 50 (m) million U.S. dollars.
"Double Elvis (Ferus Type)" will be offered at Sotheby's on 9 May. It was exhibited at the Ferus Gallery in Los Angeles in 1963, the year it was created.
The auction house says it's the first "Double Elvis" to appear on the market since 1995.
The silver silkscreen painting shows the rock and roll heartthrob armed and shooting from the hip. A shadow Elvis figure is in the background. Sotheby's on Thursday identified the seller only as a private collector.
Warhol produced a series of 22 images of Elvis. Nine are in museum collections. The Elvis piece epitomises Warhol's obsessions with fame and stardom, said Tobias Meyer, curator for modern art for Sotheby's.
The image of Elvis dressed as a cowboy comes from the film "Flaming Star."
"Andy just loved the idea of Elvis holding a gun. It just sexualises the image even more. He's got a knife, he's got a gun, he's looking at you. He's very male. And Andy clearly liked that," Meyer said.
The Sotheby's sale also features famous works by Roy Lichtenstein, Alexander Calder, Joan Miro and Pablo Picasso. Lichtenstein's "Sleeping Girl" is expected to sell for more than 30 (m) million U.S. dollars.