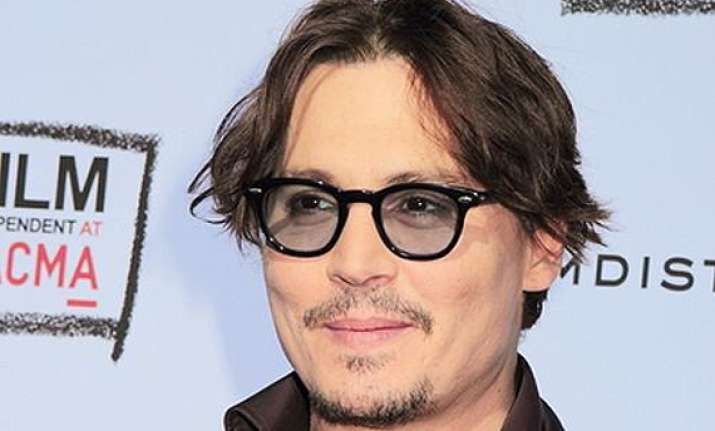 New York, Oct 26: From his heart-wrenching portrayal of the loveable misfit "Edward Scissorhands," to his flamboyant Jack Sparrow, to a murderous Victorian barber in "Sweeney Todd," Johnny Depp seems to relish a challenge when it comes to choosing roles.

"I think that's one of the necessary evils - some semblance of fear just in terms of 'hey this might not work. I might fall flat on my face. This might get real ugly.' But I think you have to do that if you're gonna do anything, you know just push forward and try something different," explained Depp.

Depp's latest project, "The Rum Diary," is based on Hunter S. Thompson's heavily autobiographical novel by the same name, which he wrote as a 22-year-old in the early 1960s after a stint as a newspaper reporter in San Juan, Puerto Rico.

Depp premiered the film at New York's Museum of Modern Art Tuesday night (25 Oct.).

The project, which is dedicated to Thompson who died in 2005, is essentially a portrait of the author as a young journalist.

"Well he was just kind of always there (on set), Hunter, you know," explained Depp of his close friend Thompson. "At the same time for me, he's there every day. Every time I put my head on the pillow to go to sleep I have his words in my head. Every day I wake up, every sort of waking moment in between he's always there. Because he's so saturated in my very being, you know? But yeah, certainly keeping his spirit alive on set for people who didn't know him, was that - let's have his chair with his name on it, let's have his script, he's producing the film, let's keep it at that. He had his scotch, he had his chalice of whiskey, he had his smokes."

The stand-in for Thompson, the young novelist-reporter Paul Kemp (Depp), is trying to find his way and his writing voice: It's the birth of Gonzo journalism.

Actress Amber Heard ("Zombieland") plays the alluring fiance of American businessman Sanderson (Aaron Eckhart), a smooth manipulator who is trying to push through an enormous development of a nearby, pristine island that's pushing locals out in favor of American investors.

Kemp immediately falls for her.

"It's an honor when you get to work with someone that's truly talented and they deserve the respect and the reputation that they've acquired. Johnny's an icon, yes, but more than that he's a good person, he's smart, he's fiercely, fiercely intelligent and very creative and he offers so much more. And working with him I really do see why he's the icon that he is," said Heard.

On the carpet Depp paid homage to Andy Rooney, who was in the hospital Tuesday after developing serious complications following surgery.

"He's one of the last great individuals. He's one of the last great journalists who is of the old school. And I salute that man greatly and I hope he's all right," said Depp.

CBS said the 92-year-old writer's condition was stable and, at the request of his family, offered no other information about his medical problems or where he was hospitalized.

"The Rum Diary" opens in U.S. theatres on 28 October.