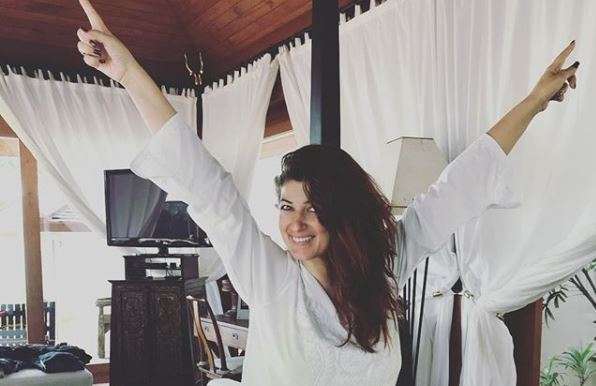 Twinkle Khanna is not just a former actress and star wife but an accomplished writer, who is quite active on social media. Twinkle doesn't believe in mincing her words and is known to speak up her mind. She has a huge fan following on social media and the credit goes to her sharp sense of humour. No one dares to mess with her or troll her as she knows how to shut the annoying people. Recently, a nutrionist trolled her on Instagram and Twinkle's response was savage.
Twinkle took to Instagram to share a recipe of a food item which is helpful in maintaining iron in body. Along with the picture, she wrote, ''My inbox is now full of queries about raising iron levels so am putting some stuff down here - the things that worked for me. 1. Oats made with water or almond milk 2. Spelt/ amaranth/ quinoa 3. Chopped nuts 4. Pumpkin seeds. Try it for 3 months and let me know."
As soon as Twinkle shared this, her post was flooded with comments but there was an user who claimed herself to a nutritionist. Twinkle's post irked her for don't know what reasons and she wrote in the comment section: ''Ms know it all has now started giving diet advice." This didn't go down well with Twinkle who replied, ''Since you are a nutritionist why don't you point out if the things I have suggested are not good sources of Iron or are harmful in any way? I have been severely anaemic my entire life and with these simple changes have managed to reverse the condition in a short period with blood reports to substantiate the results. If something simple can help people then why not share the information. Either refute my points or take your cynicism and get off my page."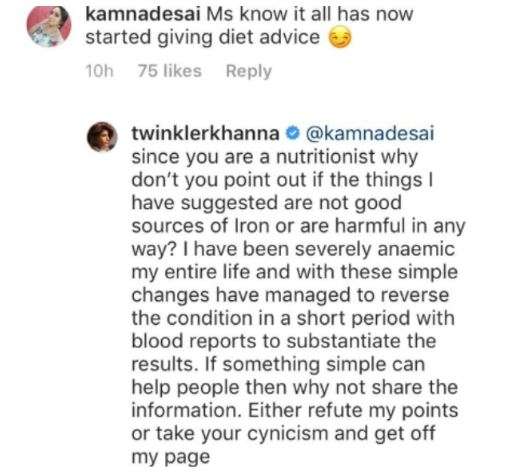 PM Modi recently mentioned Twinkle during an interview with actor Akshay Kumar. PM said that he follows Twinkle on Twitter and feels that as she vents all anger on him through social media, the actor's (Akshay) personal life must be peaceful. The actress-turned-author took to Twitter to comment on the remark. ''I have a rather positive way of looking at this-Not only is the Prime Minister aware that I exist but he actually reads my work,'' she said.
I have a rather positive way of looking at this-Not only is the Prime Minister aware that I exist but he actually reads my work :) 🙏 https://t.co/Pkk4tKEVHm

— Twinkle Khanna (@mrsfunnybones) April 24, 2019