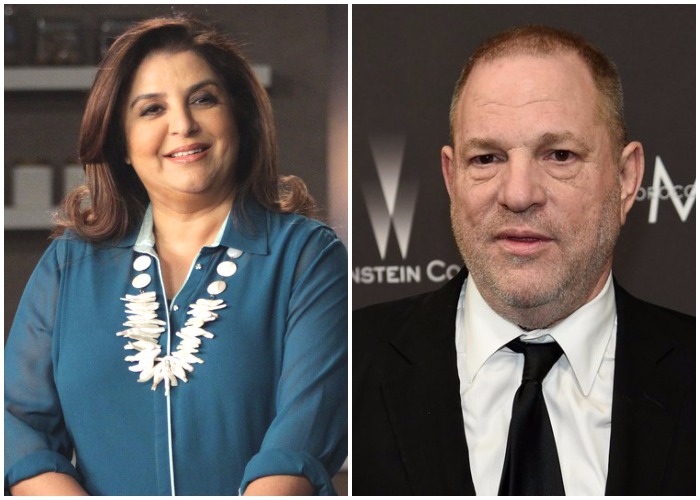 Farah Khan Kunder is always high on her wits and there's no denial to the fact. If you rummage around her Instagram profile and especially picture captions, you'll know what a Queen of Sass really is! On Wednesday, ace-choreographer and filmmaker Farah Khan shared a throwback picture of her with Harvey Weinsten. She captioned the picture: Found this!! Throwback of all throwbacks!! Giving gyan on Bollywood to Harvey Weinstein #beforetheshithitthefan #mainhoonna shoot.
In the picture, Farah Khan is seen indulged in a conversation with Hollywood filmmaker Harvey Weinstein, who's been accused by more than 40 women in Tinsel Town for sexual offences. In the picture, owing to her slapstick humour, she wrote 'before the shit hit the fan'. The picture is dated back to the time of Main Hoon Na, which starred Shah Rukh Khan, Amrita Rao, Suniel Shetty and Zayed Khan.
In case you're living under the rocks and couldn't fathom the debate around this whole Harvey Weinstein thing, here's an explainer. In October 2017, The New York Times reported that more than a dozen of women in the film industry have accused Harvey Weinstein of sexual misconduct, including rape. Following the allegations, he was suspended from the British Academy of Film and Television Arts. He was also fired from Academy of Motion Pictures Arts and Sciences. His wife, Georgina Chapman left him after the controversy soared high.