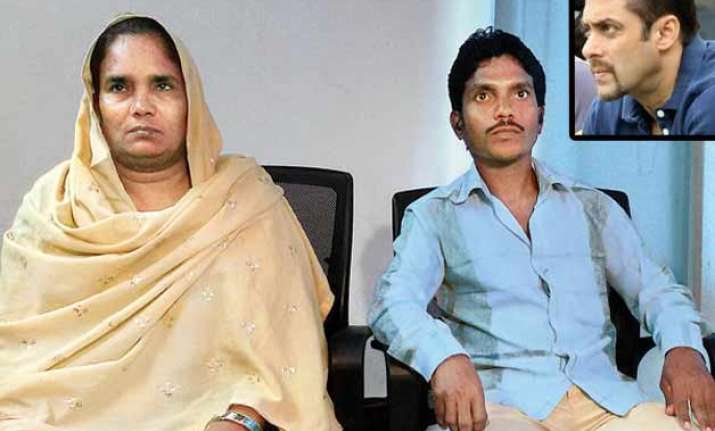 Mumbai: While the entire social media and fans of Salman Khan stood divided on whether the five years jail term for the actor in the 2002 hit-and-run case was right or wrong, the victim Nurullah's family stated that they were more concerned about the compensation than the punishment awarded.
Feroz Khan, son of Nurullah Mehboob Sharif, who died in the accident, said he does not believe that Salman should be punished. He was 12 when his father died in the accident and currently works as a labourer having no fixed employment. He said, "My father died a long time ago. If Khan is punished, his family will suffer. He should be set free. But I would like to get the compensation that the court ordered the actor to pay, which we did not get".
ALSO READ: Know about people who won against Salman Khan in the hit and run case
Feroz said he is yet to receive the sum of Rs 10 lakh that the court had ordered to be paid.
As per a report in Hindustan Times, Sarif said, "Thirteen years have gone by. My mother had to work as a maid after the accident, which took place when I was just 12 years old". He told that currently it's hard for him to support his mother, wife and two children.
When the accident took place, Sarif and his mother used to live in Vile Parle. Nurullah used to work till late and hence he did not came home every night. He often slept at the bakery only.
ALSO READ: Timeline: Unfolding 2002 Salman khan Hit-and-run case
Similarly, another victim Mannu Khan's son, Ayub Khan, was also least concerned about the judgment in the case. He was only five when his father got badly injured in the incident and spent several days in the hospital.
He said, "The quantum of punishment granted to the actor does not make any difference to us.  I was five years old when my father suffered the injury in the accident".
Currently, he is in Uttar Pradesh, his native state, where he has gone for a wedding.
"Considering how we suffered and the pain my father suffered, the punishment granted by court to Salman Khan will not help us. We are only concerned about the compensation," said Ayub.
Currently, the father-son duo works in a bakery and live in Chirag Nagar in Ghat kopar.