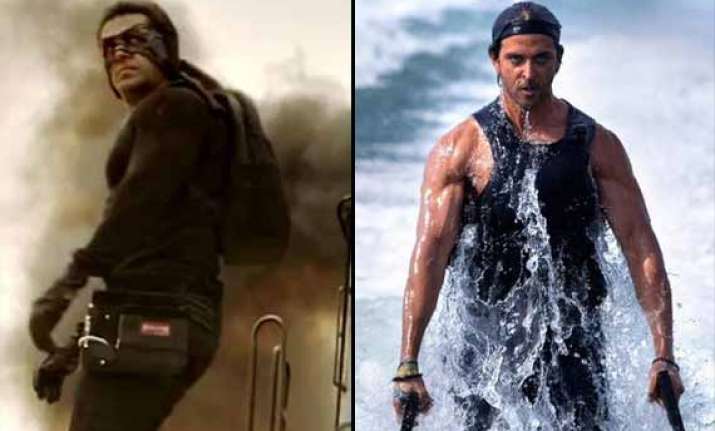 New Delhi: Soon after the Hrithik Roshan-Katrina Kaif starrer jaw-dropping teaser of 'Bang Bang' surfaced, the comparisons instantly were drawn with this Friday release 'Kick' lead by Salman Khan.
We thank God that both these flicks' release dates have a month's gap. But imagine what would have happened if these flicks had similar release date. But since no such condition is before us so box office prediction would be useless here.
But guys, Bang Bang stands and justifies its name completely. The high-octane jaw-dropping action sequences in the flick are the ones, which were alien to Indian cinema till now.
Also read:
Kick movie review: Watch this Salman Khan film and get your kick
Take Salman Khan's one thrilling scene in 'Kick' where he leaves his cycle to cross the railway line by walking and after that turn your eyes towards Hrithik Roshan jumping out of sea through a jet-glider in Bang Bang.
If Salman's stunt was a 'paisa wasool' then, what shall we call the Greek God's move in the flick which is just one among many others. We wish and are sure that Sajid Nadiadwala's Kick will strike gold at box office but just released teaser of Siddharth Anand's flick has just shifted many of the viewers' interest from Kick which is however, at safer side as far as its box office run is concerned.  
Choreographed by Hollywood action director Andy Armstrong, the stunts are extraordinary. While we Indians shy away from comparing Indian action flicks with the Hollywood ones, this proudly gives us the opportunity to applaud Bang Bang like any other 'videshi' action flick.
'Kick', though, impressive but comparatively it fell short giving us the similar rights. What would be the outcome of Bang Bang, we'll have to wait for that but 2.5 millions views on its teaser hint a mind-boggling response. Having said that, Knight and Day, whose remake Bang Bang is, was a flop in Hollywood.
If you have watched that Cameron Diaz and Tom Cruise starrer, differentiation would be easily drawn in your wits since 'Bang Bang' varies widely from Hollywood flick in action department. Also the icing on the cake will be the epic 'Zindagi Na Milegi Dobara' jodi of Hrithik-Katrina.
Now just wait for its complete trailer.