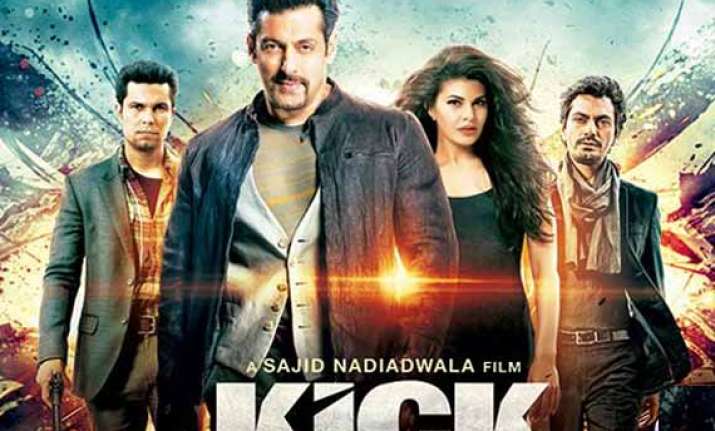 Sajid Nadiadwala, who is marking his directorial debut with Kick, roped in Salman Khan intentionally because his spark is incomparable and he already sensed what he could yield him even if the content proves a hurdle.

Ratings-**
Stars- Salman Khan, Jacqueline Fernandez, Randeep Hooda, Nawazuddin Siddiqui, Saurabh Shukla, Sanjay Mishra
Director- Sajid Nadiadwala
Music- Himesh Reshamiya, Meet Bros Anjjan, Yo Yo Honey Singh
Salman comes in and devotes that extra effort, which would certainly overshadow his earlier flicks and necessarily his this year's Rs 125 cr earner flop Jai Ho. By watching this 2 hours 25 minutes runtime masala entertainer, we can say that Salman Khan is meant for those roles that require him to enjoy his character. What lacked in Jai Ho was the notorious and carefree attitude of actor, which have turned out to be winning factors in most of his flicks like Ready, Dabangg series to name a few.
No wonder this attitude of his works big time in this flick again and if it wouldn't have been him it wasn't easy for viewers to stand that illogical narration. Take that scene where he teases police inspector and says 'hatkadi laga ke le chalo, isme kick hai', or that one where he challenges Randeep Hooda to stop him from robbing. Salman never leaves a frame without his trademark 'kick' which we would say is 'madness' and 'self-satisfaction'.
The flick opens with psychiatrist Shaina (Jacqueline Fernandez) meeting Himanshu (Randeep Hooda), an Indian police officer, for marriage. On their journey in train, Shaina narrates her story with ex-beau Devi Lal Singh (Salman Khan) to Himanshu. We are taken to flash back when good-hearted Devi helped Shaina's friend (Sumona Chakravarty) in getting married since her MLA mother was against this nuptial. However, Shaina initially hated Devi for his unusual shameful 'kick' approach but later falls for him. Devi, who could never stick to one single job, decides to get serious but again he quits it within a few days and the two part ways.
On the other hand, Himanshu too had his own story which is giving him sleepless nights. He had earned medals by solving massive cases but there is one cunning thief Devil (again played by Salman Khan) with a mask whose mystery he has failed to resolve. Devil has robbed billionaires just for fun and never got trapped. Do both these stories have any co-relation; Sajid Nadiadwala answers this question through 'Kick'.
Like all other Salman Khan flicks, Kick recommends you to keep your brains at home since it doesn't allow you to find logics in its screenplay penned by Chetan Bhagat. The die hard Salman Khan fans along with the masses would digest them while some might get disappointed because of its inspiration from Dhoom and Jai Ho.
Yes, you could easily garner such co-relation with these two flicks. The cat and mice game between Randeep and Salman remind us of Abhishek and Hrithik of Dhoom 2 while Salman's noble aim to help the needy clears that Jai Ho's 'hangover' is still on. I respect Salman's 'Being Human' initiative but couldn't assimilate its display in this flick.
However, it's the presentation, which isn't given heed and thereby it comes out as a melodramatic mode of seeking sympathy and unintentionally turns out to be amusing.
But on the other side, there are few gags, which lack any sagacity but still you want to smile on them. Among them is Salman taking Jacqueline's fathers' interview in a scene. Rarely we have seen a boy approaching his girlfriend's father and grill him.
A scene where Archana Puran Singh (in a cameo appearance as Salman's mom) uses alcohol to actually make her son drink milk, also makes you chuckle. Such are silly yet irresistible little crackers, which are pinned throughout and do a better job than action sequences. Nothing extraordinary but with Salman Khan getting into and riding each and every vehicle, you are fascinated if don't jump out of your seat. Moreover, our eyes wink when the superstar romances with Fernandez in the first half which is apt.
Director Nadaiawala capitalizes his supporting actors immensely. Keeping in mind Randeep's Jannat 2's cop act and Nawaz's 'Gangs Of Wasseypur' epic performance, Nadiadawala ropes in and brings out the similar impressive shades in the flick, which work brilliantly.
Nawazuddin Siddiqui and Randeep's interaction with Salman Khan gives the flick the required momentum which sometimes is low.  Both Randeep Hooda and Nawazuddin Siddiqui take away their share of applause in this Salman Khan flick. When you watch this bad man played by Nawaz on screen, it's just him and you can't imagine anyone else. Though limited but he gives us the real 'kick' through whatever he gets into.
Randeep Hooda as an intense cop is again impressive. He brings in the required right expression and never blinks an eye in front of the baddies. The hate and friendly chemistry with Salman fits in perfectly.
Jacqueline Fernandez, besides adding glamour and romancing with Salman Khan, gives a brilliant performance too. She is not among those who just look good in trendy clothes and don't act at all.
Saurabh Shukla and Sanjay Mishra deliver required humour and are once again great in their respective characters. Mithun Chakraborty and Archana Puran Singh as Salman's parents are good.
But obviously the show stealer is Salman Khan. His onscreen presence lends exceptional weight age to the flick. He amuses you with one-liners, thrills you with not so perfectly choreographed stunts. 
Music by Himesh Reshamiya is already topping the chart-busters. Watching those songs on big screen is like celebrating them but they come unnecessarily except Hangover. Jumme Ki Raat and Yaar Na Mile too are visually delighting.
I'll go with two stars for Salman Khan and some other good performances.