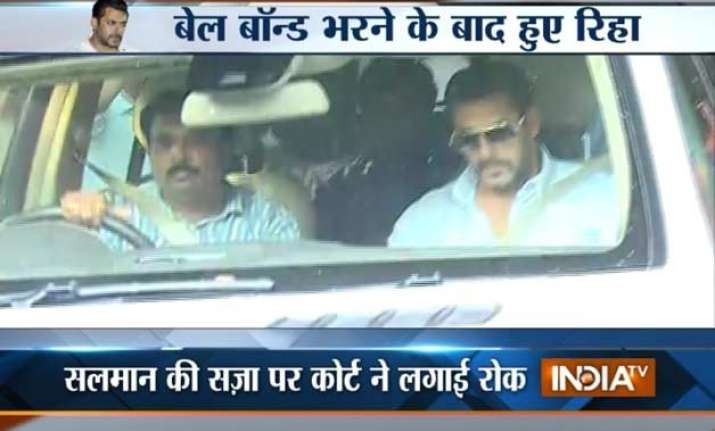 2002 Salman Khan Hit-and-run case LIVE:
Salman case shows VIPs can avoid jail: Kiran Bedi
Salman Khan leaves for his residence from sessions court
Salman Khan leaves Sessions Court after furnishing the bail bond of Rs 30,000
Salman Khan surrenders before the Sessions Court
At some point some accountability will be held I believe: Renuka Chowdhury on Bombay HC decision
That if you have money and if you are powerful then you can continue drinking and driving: Neelam Katara
Bombay HC decision sends a wrong message: Neelam Katara
Salman arrives at Sessions Court to furnish bail bond of Rs 30,000
Salman Khan leaves residence to furnish bail bond in Sessions Court
Decision of court proves that poor has not got justice: Satyapal Singh
It proves a common man can't get justice easily: Satyapal Singh, BJP MP
Fans start celebrations outside Salman Khan's residence
Bombay HC decision means Salman Khan won't go to jail
Salman  should first surrender, then appeal for fresh bond: Judge Abhay Thipsay
Bombay HC suspends Salman's sentence, grants him regular bail
Why bail should not be given to Salman Khan,  Judge Thipsay asks prosecution
A fan of Salman Khan tries to commit suicide outside Bombay HC, he is taken to hospital
Public Prosecutor Sandeep Shinde begins his argument
Amit Desai concludes his argument
This case is different from Alistair Pereira case, Pereira knew there were people sleeping on pavement. In this case it wasn't so: Amit Desai
Altaf was the one who was driving that day: Amit Desai
Prosecution has not proven that Salman was driving the car: Amit Desai
Kamaal Khan was in the car but his statement was not taken into consideration by sessions court: Amit Desai
Judge Thipsay seeks witness Ravindra Patil's statement
Sentence should be suspended, it is not a matter of 304(2) but 304(1): Salman Khan's lawyer Amit Desai
Salman's lawyer Amit Desai asks the judge for some time for papers to reach court
Salman Khan's appeal for bail hearing accepted
Hearing on Salman Khan's bail hearing begins in Bombay HC
Khan is not attending the court today, however, he has to surrender before the police till 5 pm, in case the court does not grant him bail.
Khan has two teams of advocates were working simultaneously on the bail plea, one in Bombay High Court and another in Supreme Court.
Senior council Amit desai argued Salman's case befor Judge Thipsay.
On Wednesday, Sessions judge D W Deshpande held Salman guilty in all the eight charges including of culpable homicide not amounting to murder in 13 year old case in which one died and four others were injured.
Relief came to Khan after he was granted interim bail for two days by the Bombay High Court later that day. 
In his 240 page long judgement, Sessions Judge DW Deshpande rejected Salman's contention that his driver Ashok Singh was at the wheel when the accident had happened.
The court also said that the actor was drunk while driving and also did not have a proper driving licence at the time of accident.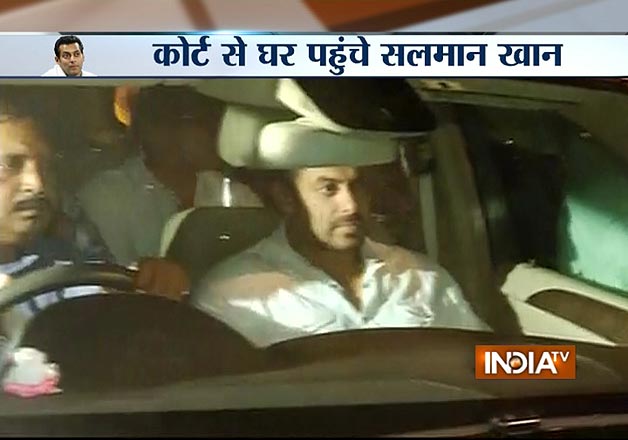 Salman Khan reaches home at Galaxy Apartment.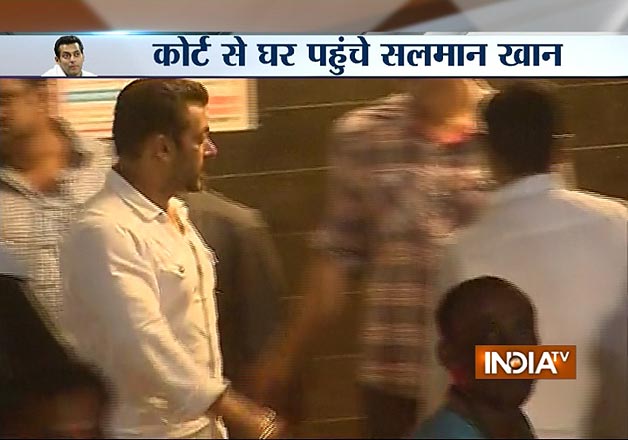 Here are the major developments of that took place during the final day of hit and run case at the Sessions Court in Mumbai.
Salman Khan leaves court premises for home.
Salman Khan filling up bail bond. He will leave for home after completing the process.
Salman Khan's car arrives at Sessions Court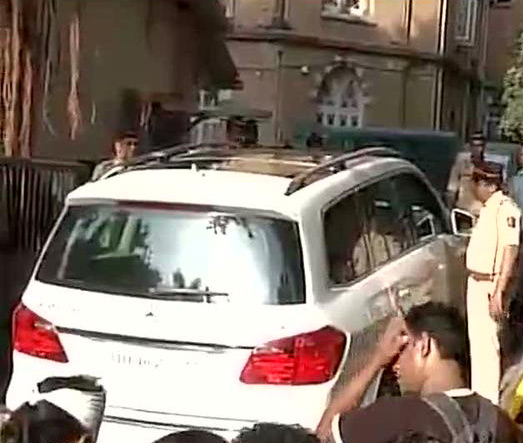 Salman Khan is still in Sessions Court, once interim bail order from HC reaches Session Court he will be allowed to go.
The interim bail was granted because judgment copy was not given in time to court
Saman Khan gets interim bail for two days from Bombay High Court
We are happy with the verdict but we should also be given compensation: Mohd Kalim (Victim of Hit and Run case)
Salman's lawyer move HC for bail application, will appeal for the bail in front of  Justice Thipsay
Salman Khan's lawyer accompanied by his sister Arpita reach Mumbai HC
Its fair and square. Law is for everyone: John Francis Fernandes (Eye witness in the case)
Salman Khan will have to go to the HC for bail now. Because if sessions court pronounces a punishment for more than 3 yrs then they can not give bail: Majeed Memon
Salman Khan is likely to be sent to Arthur road jail today.
Salman Khan shocked by sentence, sits down and breaks down into tears
The court awards 5 years jail term to Salman Khan
Court expected to announce quantum of punishment at 1:10PM
Public prosecutor Pradeep Gharat asks judge to give maximum punishment of 10yrs to Salman Khan
Public prosecutor Pradeep Gharat begins his argument
Pleading for a minimum quantum of punishment, Salman Khan's lawyer  talks about 'Being Human' initiative and the fact that he sponsored heart surgeries of 600 children
I will pray for a lesser sentence for Salman. I have full sympathy with him: Hema Malini
Salman Khan's sisters Alvira Khan Agnihotri and Arpita Khan Sharma seen in tears in the courtroom
Arguments on quantum of punishment going on in the courtroom
Sohail Khan leaves the court premises after hearing his mother's illness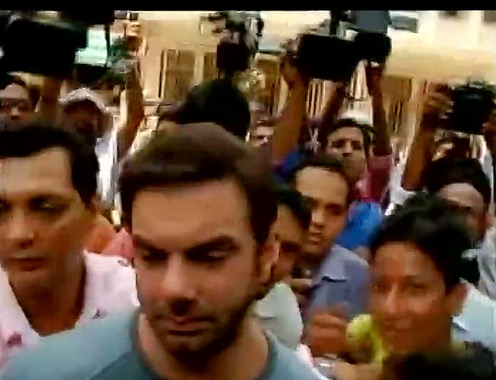 Salman Khan's mother falls  ill after his conviction
I'm innocent, Salman told the court.
In the courtroom, Salman said all charges against him are false as he was not driving the SUV.
Salman Khan's lawyer Shrikant Shivade cites Alistair Pereira and BMW hit and run Nanda case for reduced sentence
Salman's lawyer pleads for a maximum sentence of 2 years given his track record and humanitarian work
Salman Khan come out of courtroom, tears rolling down his eyes
Salman Khan found guilty on all charges
Mumbai sessions court convicts Salman Khan in 2002 hit-and-run case. Court says Salman was driving the vehicle.
Salman Khan arrives in courtroom
Salman reaches Mumbai sessions court premises
We have tried to bring the truth and placed all facts in front of the court: Pradeep Gharat (Public Prosecutor)
#SalmanVerdict on top of Twitter trends.
Salman Khan is reportedly being driven to the court for verdict by the driver who says he was driving the vehicle on the night of the accident
Baba Siddique arrive at Mumbai sessions court ahead of the verdict in the 2002 hit and run case
Salman's brother Sohail Khan reaches Mumbai sessions court
Strong police deployement at Mumbai sessions court
Salman leaves for sessions court. A fleet of cars follow him
Salman's family leaves for court, he will follow shortly
Salman's family members offer prayers all night ahead of verdict
Salman's sister Arpita Khan Sharma tweets: "Today is a big day for us & we know we are not alone.Thank you for your Dua's , love & support always. God bless !"
Mumbai: Arpita reaches Salman's residence
Bollywood reacts to Salman conviction:


The actor is accused of ramming his car, while drunk, into a roadside bakery in suburban Bandra in the wee hours of September 28, 2002, killing one person and injuring four others.
After conviction, Khan faces up to 10 years in jail in the 13 year old case.
More than RS 200 cr is riding on the superstar. Salman is part of three of the big budget Bollywood movies including Bajrangi Bhaijaan, Entry Mein No Entry, and Shuddhi.
Khan, in his 25 years or career, has acted in more than 100 films and television shows since his first hit, Maine Pyar Kiya. However, the is not new to the controversy off screen. In the year 1998 he spent more than a week in prison for killing endangered black bucks.
What happened on the night of September 28, 2002
The accident took place at 3 a.m. when Salman was allegedly driving his imported Toyata Land Cruiser (MH-01-DA-32) from Khar to Bandstand at Bandra in Mumbai. Immediately after the accident, Salman fled for the scene of accident.
At around 10.45 a.m. Salman was arrested at St Martin Road in Mumbai while he was going to the Bandra police station to give his statement. The actor was interrogated by the cops for over three hours. Later, he was taken for a blood test at the JJ Hospital at Byculla.
Salman was granted bail on the same evening after furnishing a bond of Rs 950 with the Bandra police station and was allowed to go home.
1 Person Died- Nurullah Mehboob Sharif ; 4 Were Injured - Abdulla Rauf Abhul Shaikh (22) and Muslim Niyamat Shaikh (17),Munna Malai Khan And Kalim Mohammed Shaikh in the accident. All of them were employees of the American Express Bakery who were asleep on the pavement that night.
Charges Against Salman Khan:
Salman Khan has been found guilty of all charges levelled against him ( as given below)
Indian Penal Code Sec. 304 part II (culpable homicide not amounting to murder) which attracts upto 10 years in prison; Sec. 279 (rash and negligent driving) which stipulates six months jail; Secs. 337 & 338 (causing hurt by act endangering life and causing grievous hurt) with punishment up to two years; Sec. 427 (mischief causing damage to property) with maximum punishment of upto 2 years.
Motor Vehicle Act: Secs. 34 (a), (b) read with 181 (driving vehicle in contravention of rules) and 185 (driving at great speed after consuming alcohol with punishment of cancellation of driving license
Bombay Prohibition Act: Driving under influence of alcohol with maximum 6 months' jail.
judge D W Deshpande, Public prosecutor Pradeep Gharat, Ravindra Himmatrao Patil, Muslim Niyamat Shaikh, Ashok Singh and  Shrikant Shivade are few of the people who would seal the fate of Salman Khan.
Two of the witnesses presented by prosecution testified that Salman had Bacardi rum on the night of accident. It is the judgement day tomorrow and judge D W Deshpande would bang his gavel to tell the world if he believes in the 'Bacardi rum theory'.
This hit-and-run case trial, that has been extensively discussed, has many details to be considered and before the verdict is declared, here is a quick recap of all that has happened over a period of 13 years.