New Delhi: Sonam Kapoor starrer 'Neerja' is garnering applause from every nook and corner of the country. The Ram Madhvani directorial brought alive the story of brave heart soul Neerja Bhanot, a flight attendant onboard Pan Am 73 flight, who sacrificed her life to save 359 passengers during the hijacked flight.
During those 17-hours when the flight was captivated by terrorists, Neerja kept her cool and saved the Americans passengers by hiding their passports under the seat.
When the plane's supporting power unit ran out of fuel the terrorists started a firing spree. It was then that Neerja and a passenger opened the emergency door and helped people escape from there.
Neerja, who had the wide opportunity to run and save her life, instead chose to fulfil her professional commitment and kept guiding the passengers out of the gate.
Seeing her helping the passengers, terrorists then shot her in the head. She was dead before medical aid could reach her.
After her demise, Indian Government awarded her with highest bravery honour, the Ashok Chakra. Neerja Bhanot was the youngest recipient and the first civilian of the award at the age of 23.
Here we bring you an excerpt from the Ashoka Chakra which salutes the bravery and courage of this young air hostess who lied his life to make sure others live.
Take a look.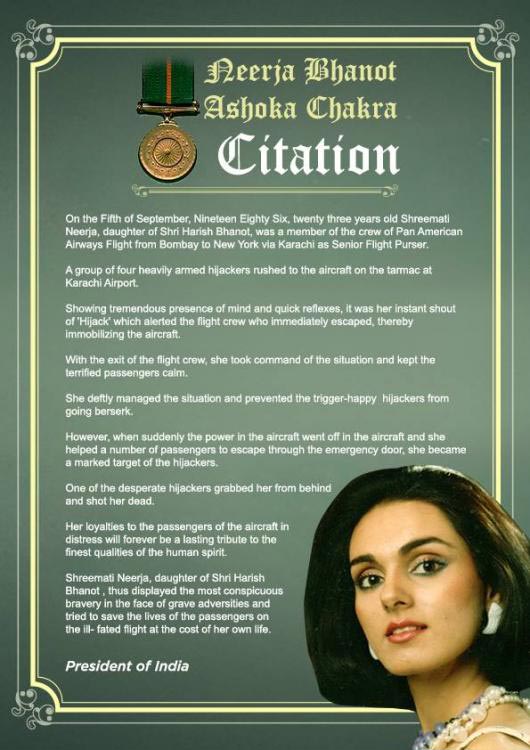 Respect! RIP Neerja Bhanot