Follow us on New Delhi: The team of 'Meri Aashiqui Tumse Hi' shot the last episode of the hit television serial a few days ago. The love saga of Ranveer and Ishani which premiered on June 24, 2014 will go off air on February 19th.
This Colors' show belonging to the Balaji Telefilms family, ruled TRP charts earlier. But, of late even the drastic plot twists could not keep viewers hooked to it.
The pair of Ranveer (Shakti Arora) and Ishaani (Radhika Madan) went on to become one of telly town's most loved couple. While most of their ardent fans might be upset with the end of the show, we have some good news for them. Insiders reveal that the show will end on a happy note with the reunion of Ishaani and Ranveer.
"It will be a power-pack ending to the show as the leads Ranveer and Ishani will confront their Aashiqui in front of each other. Ranveer will be about to commit suicide, aiming a gun on his head, in order to persuade Ishani to reveal the real reason behind staying with Nirbhay (Mohit Abrol). And exactly that happens, as Ishani confesses to Ranveer that she made a sacrifice for him by staying with Nirbhay," a source revealed to a leading entertainment portal.
Shakti Arora took to photo sharing app Instagram to express his emotions on the last day of shoot. Here's what he posted: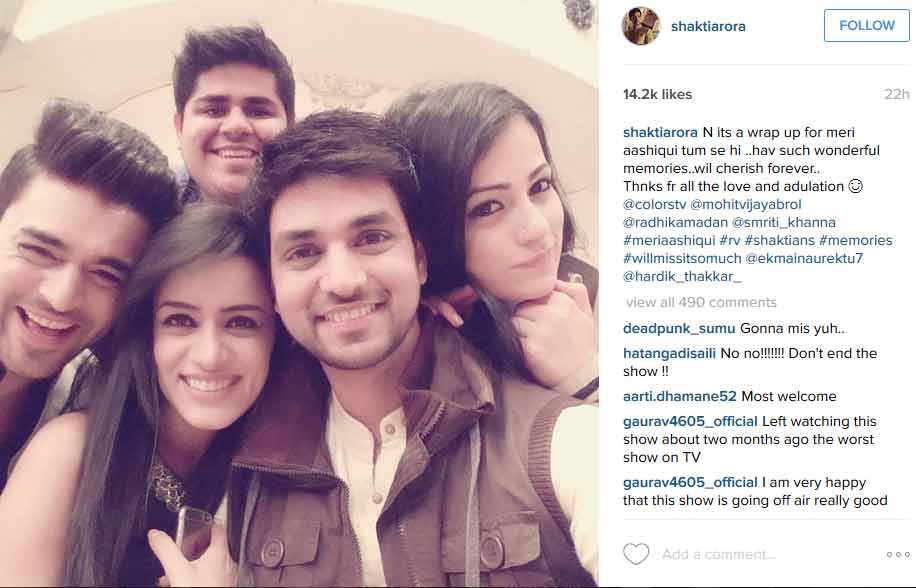 The end of 'Meri Aashiqui Tumse Hi' comes true to the saying, love triumphs all.  Despite the entire ordeal, Ishaani and Ranveer did fall into each others arms.
Let us hope we see this sizzling pair on television soon.