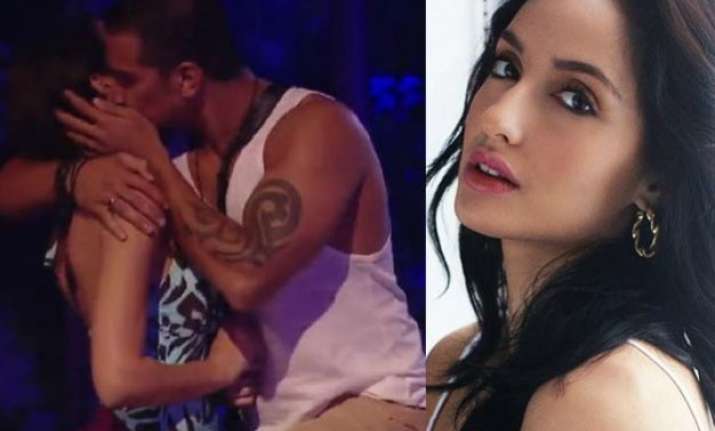 New Delhi: TV reality show Bigg Boss 9 witnessed double evictions this week. Wild card entry Nora Fatehi and Suyysah Rai got evicted from the Salman Khan hosted show.  
Nora Fatehi was famous inside the show for her love equation with Prince Narula. The two seemed deeply in love and were spotted hugging, kissing and making out not only once but several times, giving viewers some masala to stick onto.
Few days ago, their lovey-dovey acts created a huge argument in the house when Mandana Karimi and Priya Malik commented on their awkward sitting pose. But Prince and Nora stood up against everyone to prove that they were not doing something unethical.
Now, as Nora is out from the shows she has spoken about her relationship with Prince Narula, and it seems, the lady has changed colours.
"I did like him and I did tell him that I like him. From my end, that was all! I never told him anything beyond that. I never went overboard saying, "I love you", "I miss you" and stuff just for the sake of attention," she said.
When asked if she will date Prince Narula once he is out from the house, Nora answered it diplomatically and said, "We were friends and once he is out from the house we will still remain friends. Whether we will pursue our relation further or no, that we will see in the near future but we are definitely friends".
Apart from this Nora also cleared the air about her being spotted in an awkward position with Prince.
"Our entire make-out session was just blown out of proportion. That never happened. He had his head on my lap and he was just talking. He was bitching about somebody into my ears. And plus, even if we wanted to make-out, why would we make-out in an awkward position and that too in a broad day light?" explained Nora.
Well! It is quite evident from her words that Nora has changed her stance after eviction. But does that mean that whatever she did inside the house was for the cameras and to grab eyeballs? We guess it would be clear once Prince is out or the show ends.