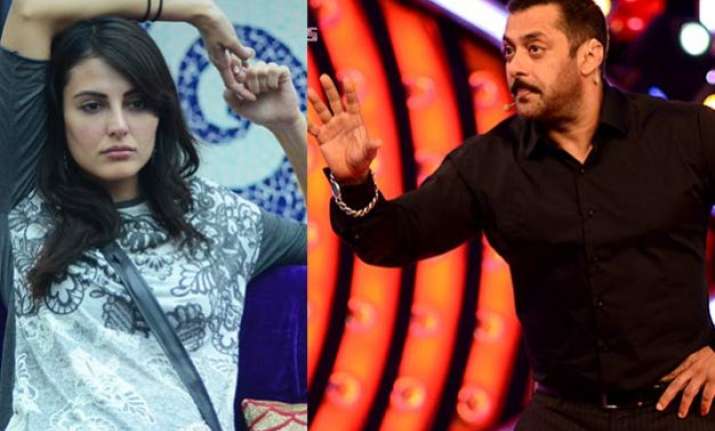 New Delhi: The Saturday episode of reality show Bigg Boss 9 witnessed something that contestants and audiences have been waiting from a long time. Superstar Salman Khan finally grilled Iranian model Mandana Karimi, who is considered to be his favourite on the show.
Yes, the 'Bajrangi Bhaijaan' star took her class for her erratic behaviour inside the house and her fight with Priya Malik.
In a straightforward manner, Salman asked Mandana," why does she think it is not necessary for her to clarify her actions to the housemates?"
While Salman was in a serious mood, Mandana took it an easy way and started laughing; that is when Khan told her that "It's not funny".
Salman further asked her if she behaves the same way (violently) in real life also. Mandan replied in 'No' but little did she know that it will result in more grilling. Salman then said three things to Mandana:
1. If being violent and defiant is your nature then it is not good.
2. If you are doing it for the game then it may be good for the game but nobody has won the show by creating ruckus in the house.
3. You are 'crossing the line'. Salman went on to say that other housemates can cross the line too, but they refrain from doing so because they are smarter than her.
To which Mandana replied that she is smarter. But yet again Salman gave a befitting repay saying "a crow is also a smart bird but nobody keeps it as a pet."
"Shana Kauwwa dono pairon se phansta hai", he added.
Well! That was too much of a dose for Mandana in a single episode. Let's see if she will take Salman's piece of advice in a right way and change her attitude.
Stay tuned for more scoop from Bigg Boss 9