Follow us on New Delhi: In the morning Bigg Boss announced that Champions will have certain perks over Challengers and one of the perk was that Challengers will have to stay out in tents and only the Challengers will do all the housework.
Sana and Ajaz were not at all happy with this decision but while Sana conceded Ajaz refused to follow the rules.
Ajaz even refused to take part in house work and everybody tried to make him understand but he wasn't in the mood to listen.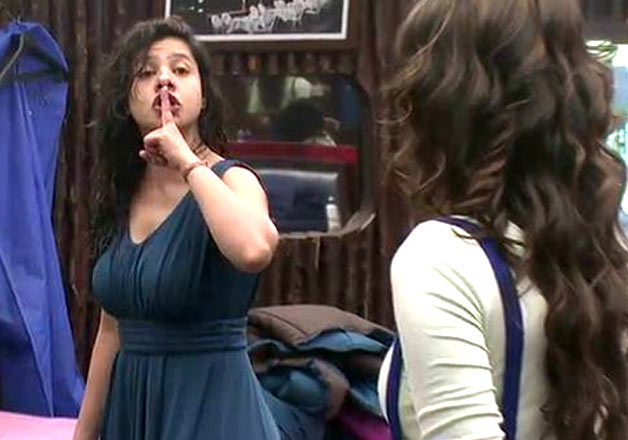 On Rahul's request, Dimpy came to ask Ali to help Challengers divide work amongst them. Sambhavna didn't like her interference and asked her to stay out of the matter.
Both in a taunting manner asked each other to keep quiet but Sambhavna couldn't hold on her frustration and she threw her shoe at Dimpy.
Also read: Bigg Boss Halla Bol: Ajaz Khan kicked out of the show, Imam Siddique might replace him!
Dimpy felt hurt by Sambhavana's actions and more because, Rahul didn't stand for her and stopped Sambhavna. Rahul later went up to Sambhvana and cleared the matter and she came up to Dimpy and apologised.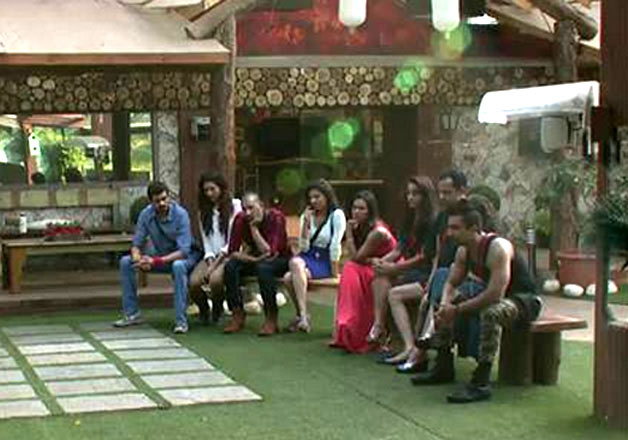 First nominations were announced in Bigg Boss Halla Bol. In this too Champions got advantage over Challengers and only they got the rights to vote.
Sambhavna, Ajaz and Mehek got the maximum votes. Sambhavna got votes for her incident with Dimpy, Ajaz for being too full of himself and Mehek for being a strong player.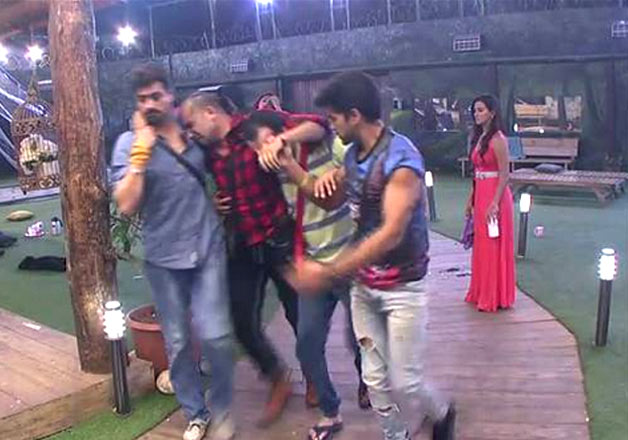 In the evening Ali teased Ajaz and their banter was quite in fun. But soon things turned ugly as Ajaz took the jokes too personally and Ali warned him to say whatever he wants to but warned him against raising his hand. Gautam and Pritam also intervened so to nip the matter from the bud.
Also read: Bigg Boss 8 Halla Bol: Farah Khan as a strict teacher impresses challengers and champions
But eventually Ajaz lost his cool and he charged at Ali and tried choking him. Everyone pulled Ajaz away but Ali felt out of breath and Bigg Boss immediately called him to the confession room.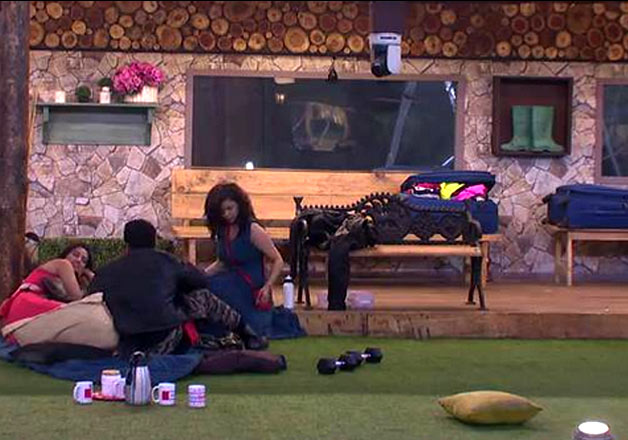 Everyone condemned Ajaz's physical attack and commented they can't support him in this. Only Sambhavna showed a bit of sympathy for Ajaz saying she knows he didn't do this for the game but he genuinely got irritated with Ali.
Ajaz tried justifying his act to Sambhavna and Sana stating that Ali and Pritam are his buddies from 15 years but they purposely tried to provoke him so to get him out of the game.
As per the reports Ajaz as a challenger, was ousted from the reality TV show after his scuffle with contestant Ali Quli Mirza.
Ajaz was known for getting into fights at the drop of a hat during his stint in 'Bigg Boss 7' as well. However, it is yet to be seen, how things will turn out after Ajaz's exit from the show.
There is one more interesting twist coming up in Bigg Boss. Voting lines are closed for this week and no official eviction will occur.