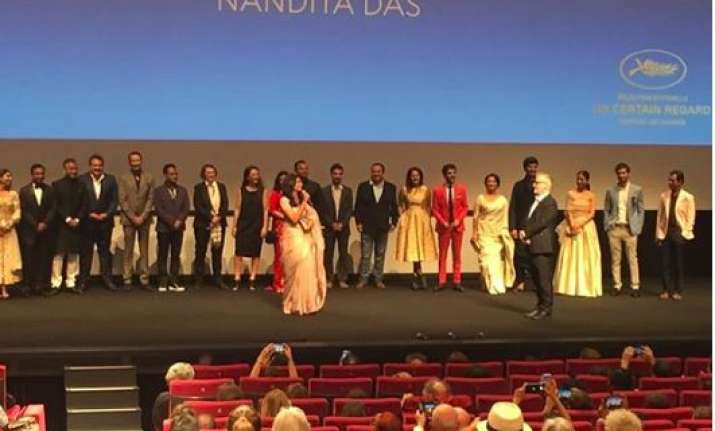 Filmmaker Nandita Das, whose Manto featuring actor Nawazuddin Siddiqui is receiving rave reviews at the ongoing Cannes Film Festival, stated that it was nothing less than a miracle that Manto actually got made.
In a lengthy Facebook post, the actor-director said presenting the biopic on legendary Urdu short story writer Saadat Hasan Manto at the ongoing film festival was an unnerving experience. 
Talking about her "roller coaster ride" over the last five days, Das said, "On the day of the premiere, I was neither euphoric, nor nervous. Just happy. The fact this film actually got made is a miracle. For it to be in Cannes, is the second miracle... 
"But the carnival-like energy here lifted my spirits. I began to feel the excitement and nervousness of a director whose film is going to be screened at the most prestigious film festival in the world, with the toughest-to-please audiences and critics." 
She said, the film, which stars Nawazuddin Siddiqui in the title role, received an overwhelming response from both the audiences and critics. 
"At the premiere, we got a four-minute standing ovation, strangers hugged me, sobbing. Some just sat in their seats still immersed in the experience. Some chose to walk out quietly, as if not wanting to break their experience," she wrote. 
The director said she is elated as "six years of relentless work" has finally paid off. 
"There was no review that panned the film and that itself was a relief as Cannes critics can be merciless," she added. 
Das, however, said many critics discussed the film's narrative of "the interweaving of Manto's life with his work". She said some were impressed, while were not.
"While most found the 'seamless intertwining' of Manto stories with the narrative fascinating, there were some who were a bit lost as they felt they weren't warned before a story began." 
The director defended her choice of creating the plot. 
"Critics and audiences have a right to question that choice, but this is what I had in mind from the day I began thinking of the film. 
"I always felt that juxtaposing Manto's real world and with his imagined one in facts was essential to understand the man and the writer. After all in his own works the line between fact and fiction are blurred," she said. 
Das also shared the pictures from the event with Siddiqui, other cast members - Rasika Dugal and Tahir Raj Bhasin. Manto has been selected in the Un certain regard category at the festival.