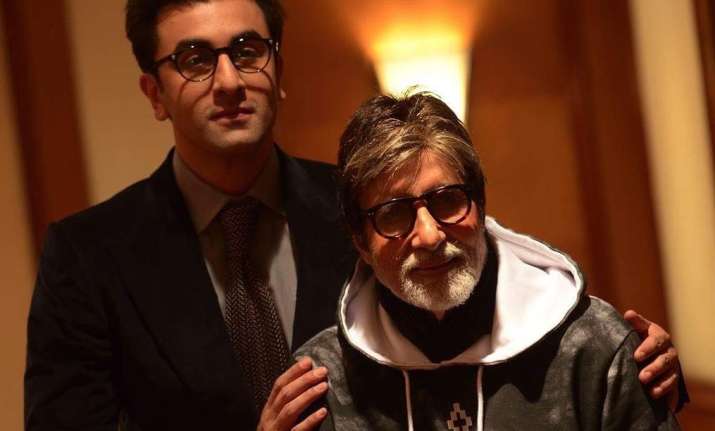 Ranbir Kapoor has been really working hard for Rajkumar Hirani's Dutt biopic. His great deal of hard work can be seen in the way he has transformed himself to step into the shoes of Sanju Baba. When the pictures of his look for the biopic leaked on social media, fans were awestruck by the way Ranbir Kapoor has shed his chocolate boy image for the flick. The actor is showing the teaser of Dutt biopic to his close friends and colleagues to get some feedback. A few days ago, reports were doing rounds on internet that Karan Johar suggested few changes in the teaser. Ranbir Kapoor also went to the veteran actor Amitabh Bachchan to show him the teaser. They met for the pre-production meeting of their upcoming film Brahmastra, which also stars Alia Bhatt.
Rajeev Masand spilled the beans about this meeting in Open Magazine. He said, "The clip begins with a long shot of Sanjay Dutt walking out of prison—except that it's not Dutt but Ranbir as Dutt."
Amitabh Bachchan was taken aback by Ranbir Kapoor's shocking resemblance to Sanjay Dutt in the film. He innocently asked Ranbir Kapoor, ""So you guys got Sanju to do that shot?"
So basically, Amitabh Bachchan wasn't able to differentiate Ranbir Kapoor from Sanjay Dutt. He actually thought that the makers got Sanju Baba himself to do that shot!
Getting this kind of response from industry's one of the finest actors, it is really hard to wait for the teaser.
Sanjay Dutt's biopic was scheduled to release at the end of March. But due to some unknown reasons,  it has been postponed. It will now hit the theatres on June 29. A while ago, Manisha Koirala's look as Nargis Dutt got leaked online. And surprisingly, she was looking like a clone of the veteran actress. In no time, the picture went viral on social media. The film features Anushka Sharma, Sonam Kapoor, Paresh Rawal, Manisha Koirala, Vicky Kaushal and Karishma Tanna in pivotal roles apart from Ranbir Kapoor.