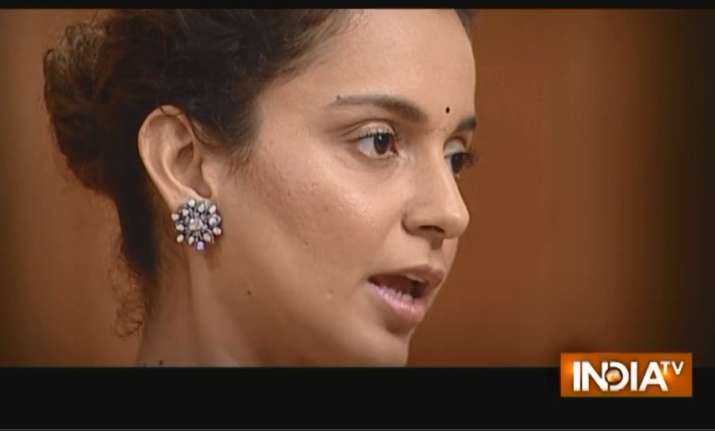 In a series of promo videos run by India TV, Kangana Ranaut talked about her very public feud with actor Hrithik Roshan. Appearing on the hugely popular TV show Aap Ki Adalat, she made some shocking revelations to Rajat Sharma. 
Kangana said Hrithik, with whom she's co-starred in Krrish 3 and Kites, should "apologise to her publicly." The Queen star said: "Please call him on the show and ask why he has been running and hiding from me. He (Hrithik Roshan) and his father (Rakesh Roshan) have made fools of themselves, they should apologise to me in public."
In an emotional outburst, Kangana said, "I have faced so much humiliation. I cried for nights. I was unable to sleep. Emails on my name were released and people still Google them and gossip. "Mujhe is badtameezi ki maafi chahiye".
In the latest teaser released by India TV channel, she challenged Roshans to expose her - she claims that Rakesh Roshan had threatened to "expose" her. The full show will be telecast on Saturday 10 pm.
The promo begins like this - "Aap India ka best criminal lawyer hire kar rahe ho, kisliye? Usko (Hrithik) apne baap ke paise ka itna ghamand hai, usi ke hi karke ye itna hawa mein baatein karte hain ye log." 
Hrithik reportedly leaked their private mails and the Roshans threatened Kangana about defaming her. Staying true to her ground, Kangana says she is still waiting to be 'exposed' but it's been one year, nothing has come out.
"Uske pitaji (Rakesh Roshan) ne mujhe kaha ki main ye ladki ko expose karunga. Ek saal ho gaya hai aur main wait kar rahi hoon ki wo mujhe expose karein," she said.
Watch the promo
Watch the telecast of Rajat Sharma's Aap Ki Adalat on Saturday, 10 pm; repeat telecast on Sunday 10 am and 10pm.
Also Read: It was like 'second death' to go through when Hrithik Roshan exposed my private mails, says Kangana Ranaut in Aap Ki Adalat
​Also Read: Watch: Kangana Ranaut demands an apology from Hrithik Roshan in Aap Ki Adalat