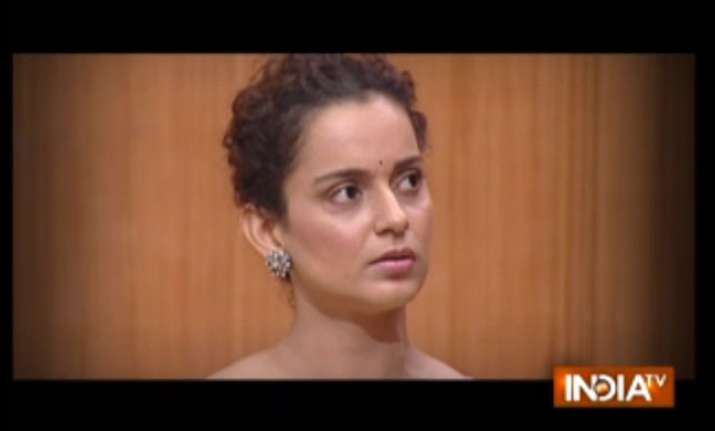 It's not over yet. Bold actress Kangana Ranaut, in an explosive interview on Aap Ki Adalat, lashed out against Hrithik Roshan one shocking statement after another. Both Hrithik Roshan and Kangana have gone public with Hrithik sending her a legal notice. In the explosive promo video that aired on India TV, Kangana opened up on her life, struggles, relationships like never before. This is the first promo, there are a few more to come on India TV channel. 
The promo begins like this - Kangana says: "Usko yahaan bulaaiye aur poochiye, usse ek ek question poochiye, because maine notice nahi bheja tha. Mere naam par wahiyat mails release kiye hue hain. Unki badtameezi ke liye mujhe maafi chahiye unse." Each statement of hers is a shocking revelation. Kangana accused Hrithik Roshan of causing her "mental and emotional trauma" and she now wants a public apology from him. 
Watch Aap Ki Adalat promo video:
How it all started
Apparently, it was Kangana's quote "Why do exes do silly things" that started a big controversy. Hrithik Roshan and Kangana Ranaut were in a relationship but that didn't work out. Things became so bad that they slapped each other with legal notices alleging hacking and mental illness. The cyber crime cell of the Mumbai Police filed a final NIL report in the case stating that were unable to find anything and were closing it.
However, Kangana will not let it fizzle, in the Aap Ki Adalat show, she has questions and has demanded an apology from Hrithik Roshan.
Watch Kangana Ranaut on Rajat Sharma's show Aap Ki Adalat on Saturday at 10 pm on India TV. The repeat telecast will take place on Sunday at 10 am and 10 pm.