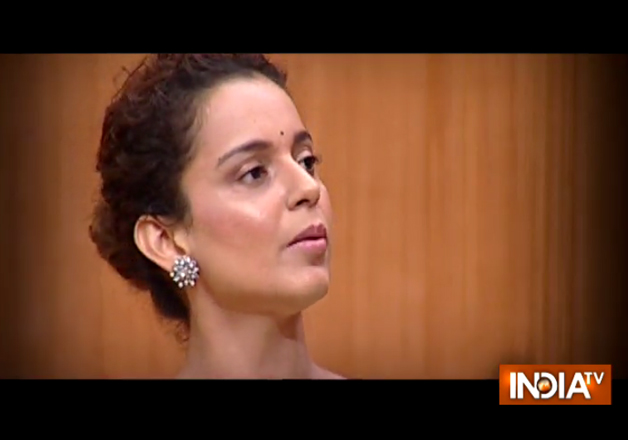 It's not over yet for Kangana Ranaut. In the second promo of Aap Ki Adalat, released by India TV, the flamboyant actress spoke her heart out like never before. She made some dark revelations about her ugly spat with Hrithik Roshan. We all know that Kangana Ranaut is outspoken and bold, she never shies away from taking on influential people. The actress has never minced her words and she did exactly that on the popular talk show hosted by Rajat Sharma. Kangana Ranaut spoke volumes about her rumoured affair with her Krishh co-star Hrithik Roshan.  
While spilling beans on her alleged relationship with Roshan, she also got candid about her struggles before getting into the film industry. There's no doubt that Kangana is a self-made star and has seen many ups and downs in her life. 
The Simran actress said, ''I have faced many struggles in my life.''
Lashing out at Hrithik, Kangana revealed many facts behind the most popular controversy of 2016. Their alleged love-affair turned into a legal battle when Hrithik sent her a legal notice. 
In the second teaser video, Kangana says, "I truly loved him a lot. The poetry which I wrote exclusively for him, he used them to tarnish my image. It is just like a second death to go through when someone does that to you."
Sharing the second promo of Kangana's interview, Chairman and Editor-in-chief of India TV, Rajat Sharma tweeted:
'It is like a second death to go through', an emotional #KanganaRanaut
told me in #AapKiAdalat this Sat, Sept 2 at 10 pm on @indiatvnews pic.twitter.com/tc9iz6QpP2

— Rajat Sharma (@RajatSharmaLive) August 31, 2017
Kangana, in a beautiful hand-painted Sabyasachi saree, appeared on Rajat Sharma's popular TV show Aap Ki Adalat recently. Promo videos of the episode are running that will be aired on Saturday 10pm. The Queen star, who is also known as the 'face of feminism in Bollywood' gave one shocking statement after another. In the first promo video, Kangana asks Rajat Sharma to call Hrithik on the show and ask him all the questions. "Maine koi notice nahi bheja, use poochiye."
In an emotional outburst, Kangana said, "I have faced so much humiliation. I cried for nights. I was unable to sleep. Emails on my name were released and people still Google them and gossip. "Mujhe is badtameezi ki maafi chahiye".
Watch Kangana Ranaut on Rajat Sharma's show Aap Ki Adalat on Saturday at 10 pm on India TV. The repeat telecast will be on Sunday at 10 am and 10 pm.
Also Read: Watch: Kangana Ranaut demands an apology from Hrithik Roshan in Aap Ki Adalat