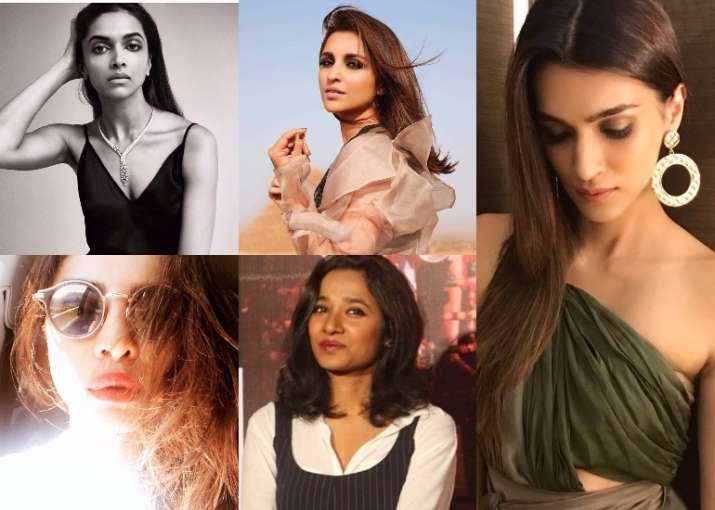 Yesterday, a news got viral on internet about a Bollywood actress Bhairavi Goswami body shaming Kriti Sanon on a public platform. The incident gathered a lot of attention as most of the times the actresses face shaming in the hands of their fans. But in this particular episode, a Bollywood actress was shamed brutally for her body type on a public platform by another Bollywood actress. It was shocking to see that a not-so-famous celebrity chose the most outrageous way to gain 2 minutes of fame on internet. It's not something new happening to a famous face. You can name every single Bollywood actress, and they all have faced body shaming at a point of their life. Some incidents became instantly famous, while others just got buried between the strings of comments. 
Also Read: Body shaming hits a new low! Hate Story actress Bhairavi Goswami slams Kriti Sanon for her 'Hawa Hawa' video
Deepika Padukone for her being too skinny 
Earlier this month, Padmavati actress Deepika Padukone posted a picture on her instagram and hell broke loose. People started showing hate comments on her picture for being 'too skinny'. People went  on to the extent of saying 'Get some food' and 'She is suffering from malnutrition'. The actress chose to remain silent on the issue, proving that she's indeed the Queen of Bollywood. 
Priyanka Chopra shamed a number of times for nose jobs 
It's not only once or twice that PeeCee has been slammed by haters for getting a nose job. The trolls called her 'ugly' in the pictures and criticised the actress for going under knife. Just like Deepika Padukone, Piggy Chops didn't pay heed to the haters. 
Disha Patani was slammed online for showing cleavage in a dress 
During Filmfare 2017 Awards, Disha Patani was heavily criticised online for wearing a plunge neckline dress at the event. She posted the picture of the event on her Instagram and hate comments started pouring in. This affected the actress to an extent that she posted a hard-hitting post for her haters. 
"Really felt a need to share this!  thanks to my fan clubs friends and family for always giving me the strength i hope we all can find this strength from within each other and stop suffering #spreadlove" The image had the caption, "Have been reading so many news lately on molestation and rape! When people in our country are worshiping goddesses what a shame for not being respectful enough to know certain boundaries that make you a human and not an animal! It's easier to judge a woman on the basis of how much they cover up their skin, but it's hard to accept your own cheap mentality where you can't stop staring at those inappropriate areas which you are asking her to cover! Wake up and start accepting that we are not going to be anybody's idea of an "Indian girl". Don't let your frustration destroy somebody's life because you won't be happy if it happens in your own family! Stop this hypocrisy and open your mind!"
Parineeti Chopra faced a series of body shaming incidents 
There wasn't few incidents where Parineeti Chopra was scrutinized for her bulky body shape. She was often told by her haters to eat less and become thin like other Bollywood actresses. The actress even posted a gripping post on her social media handles about her body shaming experiences. 
She wrote: 
'All my life, I have struggled with how I look, how I feel, and how people looked at me. I was constantly made fun of, but the person I was, I generously laughed with them. Today, many people ask me what triggered the weight loss, did I give into the "Bollywood pressure"? To that I say – Thank God I became an actor and had that pressure! I can achieve what I couldn't achieve otherwise. I feel confident, I feel at peace, and I feel proud! Girls and women meet me all around the world, at airports, events, on the street; they hold my hand, hug me, and tell me their struggles and how I changed their lives.'
Tannishtha Chatterjee on Comedy Nights Bachao
India and its obsession with fair skin is nothing new. We have a number of fairness creams whose sales are soaring higher than any other cosmetic in the industry. The Parched actress was obnoxiously bullied on the sets of Comedy Nights Bachao where the folks thought that it was okay to shame someone for their skin colour. Tannishtha did the most right thing and walked out of the show. 
Also Read: Varun Dhawan to Ranveer Singh: Candid confessions made by celebrities on No Filter Neha
For more entertainment updates, follow our Facebook page