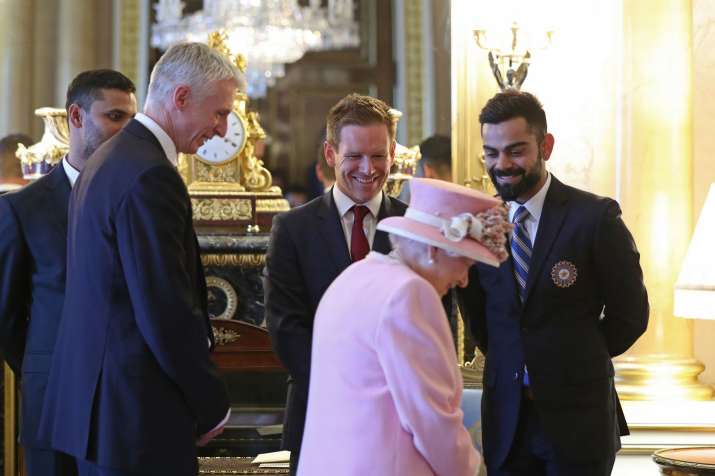 Cricket fans are on cloud nine as ICC World Cup 2019 has just started. All the crazy cricket fans are planning to stick to their screens for the next 45 days. Just before the opening ceremony, all the 10 captains of participating teams went to Buckingham Palace to meet Britain's Queen Elizabeth II and Prince Harry. Soon the photos from the meeting went viral all over the social media. 
The 10 #CWC19 Captains with the Queen. pic.twitter.com/cT42NfuPCv

— BCCI (@BCCI) May 29, 2019
However, netizens couldn't hold their excitement back when the picture of Virat Kohli with Queen started making rounds across the internet. In one of the photos, the Queen is seen laughing while interacting with Virat Kohli and captain of England Eoin Morgan.Twitterati grabbed the opportunity to guess the conversation between Queen and Virat Kohli and ended up sharing some hilarious memes about Kohinoor.
Some netizens proudly shared that India still has the real Kohinoor and that is the Kohlinoor. While others suggested Kohli to bring back the trophy and the diamond as well. Take a look at some hilarious memes:
Virat: Aunty wo Kohinoor ..... . ??

Aunty: Ha wahi chawal banya hai, khana kha ke jaana. pic.twitter.com/JtfIwCVB57

— HOoDWink  (@iamGunjanGrunge) May 30, 2019
#ViratKohli- Kohinoor toh Diya nai.. magar cup toh mein hi leke jaunga https://t.co/3TUOzTrgnE

— Naughtius Maximus (@lordfartvader) May 30, 2019
When you realize India still has the real Kohinoor!
IT'S KOHLINOOR.
#ICCWorldCup2019 #TeamIndia pic.twitter.com/djkoTDFMII

— vikash sharma vicky (@vicky_sbl) May 30, 2019
* When KOHLInoor's brand value is more than Kohinoor itself * #CWC2019 #ViratKohli #ENGvSA pic.twitter.com/MUL4qMI9wN

— Harshit (@Asktheharshit) May 30, 2019
Kohinoor was damn close ! https://t.co/G95jGkRL2S

— Rahul Anand (@Redundant_Link) May 30, 2019
Kohli: World Cup jeete toh Kohinoor waapis karogi?

Queen: You are funny. pic.twitter.com/eUVU3p65BA

— Vishesh (@vishthecomic) May 29, 2019
Queen to Virat: Suna hai tum Kohinoor lene aye ho pic.twitter.com/oSbFWUG9m3

— Mr. 36/174🏏 (@SunnyGuavaskar) May 29, 2019
Kohli : pehle aap hamare Desh aaye Kohinoor churaya...
Ab hum aapke Desh aaye hai #WorldCup2019 churane ! #Badla

Crown cricket ka madam ji hum le jayenege#TeamIndia 🇮🇳 #CWC19 #CricketWorldCup https://t.co/FTqj1zLm2Q

— GEETIKA 🏏🏏 (@Geetikatuli) May 29, 2019
Kohli : Tm ne Lagaan dekhe h?
Queen: nhi lekin maine champions trophy ka final dekha tha😂#CWC19 #CricketWorldCup pic.twitter.com/qFZBw7AJHn

— Mohsin Sher Ali (@MShera74) May 29, 2019
For the unversed, Kohinoor is a precious stone and is considered as one of the largest cut diamonds in the world. In 1849 Kohinoor was confiscated by the British East India Company from the king Maharaja Duleep Singh.