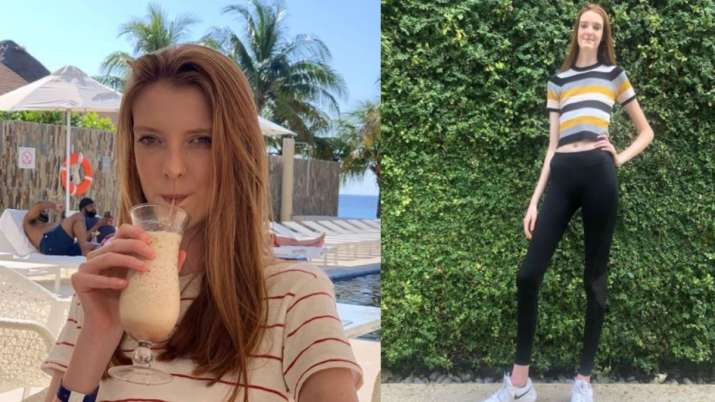 The world is a fascinating place and is full of extremes. Right from the smallest to the tallest, everything is interesting especially when it creates a record. Recently, a teenager made a Guinness World Record for her unusually long legs. Yes, the girl whose name is Maci Currin is 6 feet 10 inches tall and has world's longest legs. 
The 17-year-old Maci, who lives in Texas, USA, has her name in the top spot of the Guinness Book of World Records. She has now replaced Russia's Ekaterina Lisina with herself for having the longest female legs. Ekaterina Lisina's legs were 52.2 inches long while Maci's legs are more than 53 inches in length.
Guinness World Records official statement stated that her right leg is 134.3 cm long and her left leg is 135.3 cm long. "The 17-year-old's legs stretch almost a metre and a half in length. Her left leg measures 135.267 cm, while her right leg measures 134.3 cm," said the statement.
Talking about her long legs, Maci said that people who are having unusually different physical characteristics should not be ashamed of themselves and that they should not hide. She also went on to say that this record will inspire all the tall women out there.
Meanwhile, Maci's mother reacted on her daughter creating a world record by saying that she came to know about her when she was a child. As a kid Maci was taller than the other children. She was 2 feet and 11 inches tall at the age of 18 months old.
Maci has faced a lot of problems because of her long legs but she also is feels blessed about it and enjoys a good fan following on social media. She is the tallest member in her family.