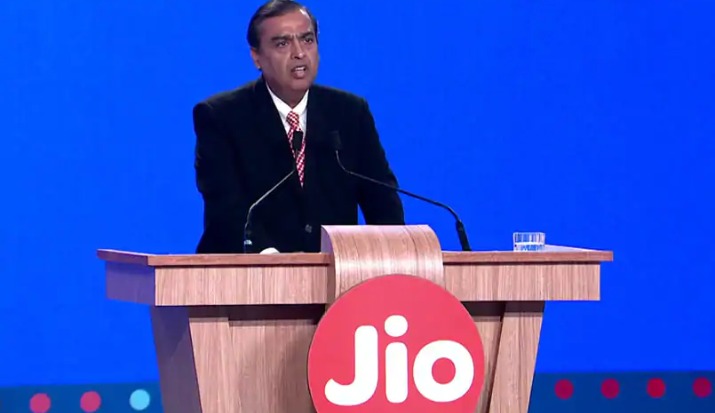 Mukesh Ambani's Reliance Jio has overtaken Bharti Airtel's subscriber base. The company has emerged as India's second largest telecom company. Jio, having a customer base of 30.6 crores, now trails only Vodafone-Idea. Airtel has 28.4 crore subscribers while Vodafone-Idea had announced 38.7 crore subscribers in December 2018. Airtel's numbers according to the report of TOI the numbers were confirmed by a spokesperson after the query was sent.
According to a telecom industry analyst said Jio may overtake Vodafone-Idea soon. "Vodafone-Idea is the most vulnerable of the three private players, and it may just be a matter of a few more quarters, maybe three-four, before it is overtaken by Jio," says the analyst.
Airtel, which has been dominating the Indian telecom space for almost two decades, this has proved to be a major fall. Airtel which used to be the market leader until the middle of last year before being sidelined by a new entity that was formed after the merger of Vodafone India and Idea Cellular.
The growth in Jio's business since it launched services in September 2016, has been fuelled by aggressive and dirt-cheap tariff plans with the company launching operations with free voice call facility.
"The remarkable growth of Jio has been unprecedented and the company is expected to dominate the customer acquisition space through aggressive and innovative tariff plans, including bundling of content packages," said Mohan Shukla, CEO of FinXPros, a consultancy firm.
Jio has been adding subscribers at breakneck speed at a time when Airtel and Vodafone-Idea have been weeding out low-paying users. According to a report by JP Morgan, Jio added 2.7 crore new customers between January and March 2019, after logging in 12 crore new members through 2018.
Importantly, the company continues to lead the data space through its 4G-only business, and is actively scouting for more customers with cut-throat tariffs. "… we see no prospects of a tariff hike in FY2019-20, unless Jio's net addition (of subscribers) comes down," JM Financial said in a just-released report.
Jio's entry into the telecom business had unshackled the financials of the industry completely. Airtel, which had initially accused Jio of engaging in "predatory pricing" to gain market share, has seen its domestic operations slip into losses, while Vodafone India and Idea were forced to strike synergies and lower operating costs.
However, Jio,  continues to be profitable in its operations and also had the highest adjusted gross revenue (AGR) in access services amongst all the telecom companies in the December quarter. While Jio's AGR was Rs 9,482 crore, Vodafone-Idea was at Rs 7,224 crore and Airtel at Rs 6,440 crore, according to a report released by telecom regulator Trai.
In 2018, Jio captured 60% share of new 4G subscribers and accounted for 65% of industry 4G customers as of December-end 2018. Further, it carried 70% of 4G data traffic in 2018, and 61% of overall data traffic.
Mukesh Ambani had made it clear from the beginning that his business would not be a pure-play mobile telecom company, but would aim at creating a digital eco-system that — among other areas — would focus on high-speed internet, news and entertainment content, movies, music, chat, and financial transactions.
Jio has been the strongest in terms of bringing in the internet customers, especially as it also offers mobile handsets bundled with its services.