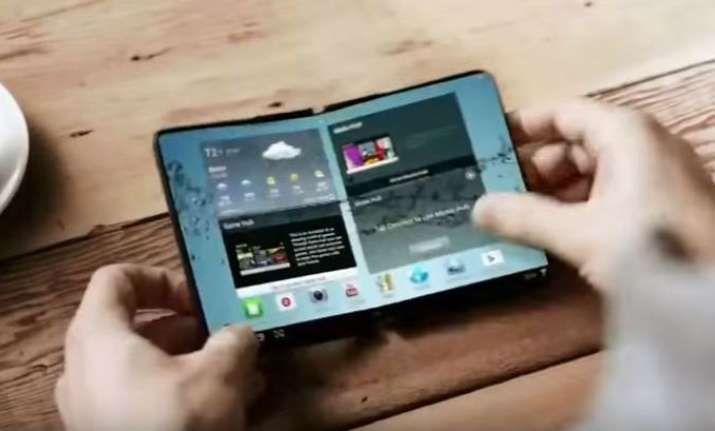 If you are waiting to get your hands on Samsung's successor to the Galaxy S8 or Note 8, this should come as news for you. While rumours have been rife of Samsung working on a foldable smartphone for quite some time, new reports by the Korean media have claimed that Samsung Electronics and Samsung Display are busy developing an inward-folding smartphone with a 3R curvature (curvature radius of 3 millimetres).
The reports add to the excitement it was believed until now that Samsung's upcoming foldable smartphone will be an outward-folding handset. However, fresh reports indicate the contrary, and also suggest that if everything goes according to plan, the device may hit stores as soon as next year.
Samsung hasn't confirmed anything about the device yet.
According to Business Korea, Samsung had worked for years on a smartphone -- as well as its components -- that can be folded inward, before going in the opposite direction to develop the out-ward folding handset two years ago.
However, the company recently changed its direction once again and started focusing on its initial concept for some unknown reason.
Sources told The Korea Herald that Samsung probably adopted the inward-folding design due to the development of related technologies, suggesting that the phone's imminent launch is not completely out of question.
"Samsung has nearly developed technologies related to the in-folding type phone. It means a lot for it to return to the type," an industry source told The Korea Herald.
The latest details came more than two weeks after Koh Dong-jin, the president of Samsung's mobile business, said that the company may launch a foldable smartphone sometime next year.
"We have a plan to adopt a foldable display in our roadmap. We are currently addressing some technological hurdles to commercialize such a device," Koh said at the time. "We will launch a foldable device when we are fully ready, and we are aiming to do so next year."
Samsung's plans could face a jolt with leaks indicating that ZTE is also working on a similar technology. A photo of ZTE's foldable Axon M smartphone recently leaked online. ZTE has already announced that it is going to launch a new smartphone on October 17. Whether it will be the foldable Axon M is still unclear.