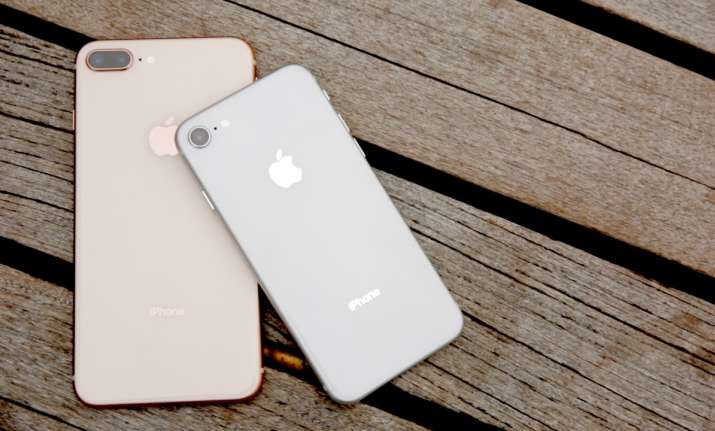 The ongoing festival season sale by e-commerce giants Amazon, Flipkart and Paytm should come as a boon for tech lovers, particularly iPhone enthusiasts. Apple iPhone 8 and iPhone 8 Plus pre-bookings have begun in India through both online and offline channels and there is a huge rush among retailers on both platforms to lure customers. We get you the best offers available on the iPhone 8 and iPhone 8 Plus to help you make the right pick before you put in your money.
In offline retail, various authorised Apple Resellers, Redington stores, large format chains, and Jio Stores will be taking the pre-orders for the handset till September 29, when it goes on sale. Jio has also launched an exclusive telecom plan for the new iPhone 8 models. Apple also unveiled the flagship iPhone X this year, but it will arrive in India in November, along with other global markets.
Here are online pre-booking offers for iPhone 8, iPhone 8 Plus on Amazon India, Reliance Jio, Flipkart:
Amazon India
There is an exchange discount of up to Rs. 20,341 that consumers can avail of on pre-bookings of iPhone 8 and iPhone 8 Plus on Amazon India. An extra discount of Rs 10,000 is available of you exchange your old iPhone model. Besides, the e-commerce platform is also offering no cost EMIs, 10 per cent additional cashback on use of HDFC Bank credit or debit cards for payment, along with the option to opt for the Jio 70 percent buyback offer.
Reliance Jio Buyback Offer
Reliance Jio has unveiled special plans and offers for pre-booking the iPhone 8 and iPhone 8 Plus. Its buyback plan provides the option to consumers to avail of a 70 per cent buyback offer for consumers who purchase the iPhone models, use a Jio SIM card on it and return it to the retailer within a year. The Jio buyback option can also be availed from Reliance Digital, Jio.com, Jio Store, and MyJio app. The buyback offer effectively decreases the cost of the iPhone 8 and iPhone 8 Plus for the consumer if he/she chooses to return it after one year.
Jio is also offering Rs. 10,000 cashback on Citibank cards, and a Rs. 799 plan with 90GB data, free SMSs, access to Jio apps, and free calls.
Flipkart
Flipkart's iPhone 8 and iPhone 8 Plus pre-booking offers include exchange discounts up to Rs. 23,000. It also offers 10 per cent off when you make your purchase through SBI debit and credit cards, and a 5 per cent discount if you use an Axis Bank Buzz credit card. There is also a 10 per cent cashback on PhonePe payments, and Rs. 10,000 off on Citi Credit and World Debit Cards.
Flipkart is also offering a 1-year buyback guarantee at Rs. 99, under which you are eligible to get Rs. 40,000 exchange value on return. There is also an option of extended 1-year warranty at Rs. 2,695.
iPhone 8, iPhone 8 Plus offline pre-bookings
Among offline retailers, Redington India has confirmed that both the iPhones can be pre-ordered from any of its 3,000 stores across the country. Other large offline stores like Croma, Maple, Vijay Sales, etc. are also expected to open pre-bookings and offers and consumers can choose to walk into any of these stores to know the best available offers.
What's new in iPhone 8, iPhone 8 Plus?
Apple's iPhone 8 and has been priced in India at Rs 64,000 for the 64GB variant and Rs 77,000 for the 256GB model. Similarly, the base 64GB variant of the iPhone 8 Plus will cost Rs. 73,000, while the 256GB model has been priced at Rs. 86,000.
The iPhone 8 and iPhone 8 Plus offer some significant improvements over the iPhone 7 and iPhone 7 Plus. These include new colour options - Silver, Space Gray, and Gold Finish, improved display and 25 percent louder speakers. The glass front and back are an added specification. Both the new iPhone models also support wireless charging and better cameras.
Apple's iPhone 8 and iPhone 8 Plus are powered by A11 Bionic SoC six-core processors and improved GPU, which is 30 percent more efficient than the GPUs in last year's models. The new SoC and GPU are able to perform complex tasks such as video encoding at much faster rate.