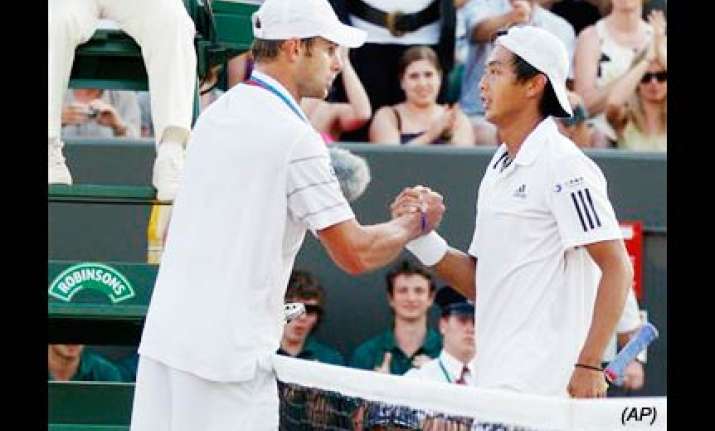 LONDON: Taiwan's Lu Yen-Hsun sent Andy Roddick crashing out in the fourth round at Wimbledon on Monday with a stunning 4-6, 7-6 (7/3), 7-6 (7/4), 6-7 (5/7), 9-7 win over the three-time finalist.  
Unseeded Lu broke Roddick's serve just once in the game - in the deciding game of the final set - to become the first Taiwanese man or woman to make the last eight of a Grand Slam.  
The 26-year-old, ranked 82nd in the world, also became the first Asian man to make the last eight at the All England Club since Japan's Shuzo Masuoka back in 1995.  
He will now face Serbia's Novak Djokovic, the third seed, in the quarter-finals on Wednesday.  
This is Lu's best Grand Slam performance - his previous best effort was a third round spot in the Australian Open in 2009 and he had never been beyond the second round at Wimbledon.  
In a match dominated by the servers there was only one break in the first four sets, coming when Roddick broke in the tenth game of the first set to go 1-0 up.  
But Lu dug deep to force tie breaks in the next two sets, taking them both, the first 7-3 and the second 7-4, to take a 2-1 lead.  
Lu had a break point at 2-2 in the fourth but a Roddick drop shot foiled him and the American finished the game off with his 21st ace of the match.  
The rest of the set went with serve until the by now almost inevitable tie-break. Lu was 3-0 up and had the match in his grasp, but Roddick recovered and had set point at 6-5 - taking it into the fifth set with yet another ace.  
In the fifth game of the fifth set Roddick had two break points but Lu defended them and held his serve.  
Both swapped service games until the 16th game of the final set when Lu finished the match off. AFP