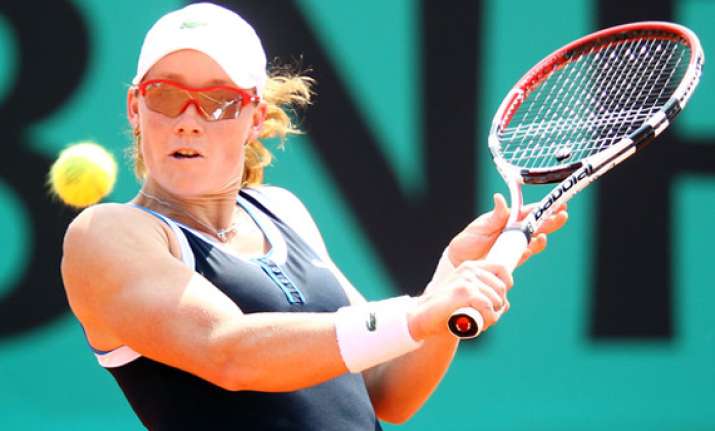 Istanbul, Oct 29: Australia's Sam Stosur routed China's Li Na 6-1, 6-0 on Friday to qualify for the semifinals of the WTA Championships.

Both players came into the match knowing a win would put them in the last four.

Stosur, the U.S. Open champion, was in dominant form against the French Open winner, dropping only the fifth game of the first set as she extended her career record against Li to 6-0.

Stosur, who joined Victoria Azarenka of Belarus in qualifying from the White Group, will play Wimbledon champion Petra Kvitova of the Czech Republic in the semifinals.

Kvitova had already sealed her place from the Red Group before she beat Agnieszka Radwanska 7-6 (4), 6-3 in a later match on Friday.

Though she led 5-1 in the first set, Radwanska's failure to win at least one set meant that Vera Zvonareva will join Kvitova in the semifinals from the Red Group, and will take on Azarenka.

Stosur said she wanted to redeem herself after losing 6-2, 6-2 to Azarenka on Wednesday.

"This was a really good turnaround from the match two nights ago," she said. "I played really well from start to finish."

Li reached the Australian Open final in January and became the first Asian player to win a Grand Slam title when she won the French Open in June. She has won only seven matches since then.

"Was up, down, up, down," Li said of her season. "Beginning of the year was like fantastic and fantastic start. And after Roland Garros I think I didn't win many matches.

"I mean, up and down all the year, so I wish I could do the same level for next year."

Kvitova was looking forward to a second meeting this year with Stosur after beating her 7-6 (5), 6-3 at the Australian Open.

"The first set was very close," Kvitova said of their third round contest in January. "It will be great match hopefully again for the people and for us. We know each other. She's playing a little bit like me, so she has a big serve.

"I have to be focused on serve and return, for sure."

Despite knowing what it would take to earn a place in the semifinals, Radwanska said she could not cope with Kvitova's aggressive style.

"Even when I was 5-1 up in the first set, to be honest, I didn't feel I was close to win the set," the Polish player said. "She start to play unbelievable ... hitting the ball very hard.

Summing up, Radwanska added: "I was trying my best today, but, you know, she was just playing too good in the important moments, I guess."

Top-ranked Caroline Wozniacki was eliminated Thursday from the Red Group.