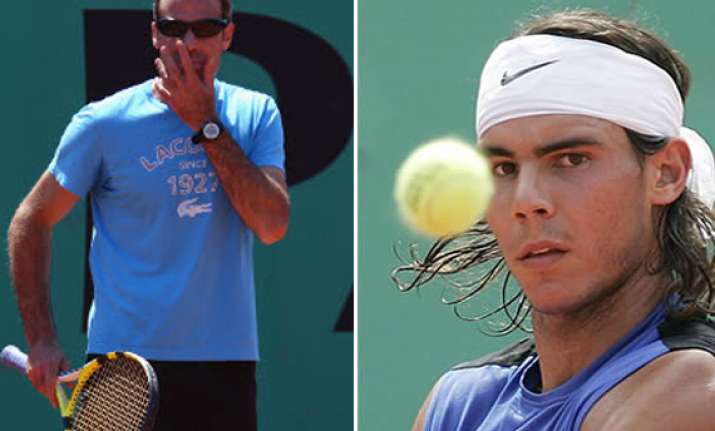 Barcelona, Dec 29: New Spain captain Alex Corretja is hopeful that Rafael Nadal will be available to the Davis Cup champions despite the second-ranked Spaniard announcing he won't compete in the event in 2012.

Corretja said on Wednesday that neither Nadal nor David Ferrer have told him personally they will be unavailable for the five-time winners, so the newly appointed captain plans to speak to the pair at the Australian Open to see if they could play certain match-ups.

"My obligation as captain is to speak to all of the players and the coaches. Not one player has personally told me that they will not play," Corretja said from Barcelona's Olympic Stadium. "If some players say they need time to rest, I can only respect that and try to put together the best team possible for each series."

Nadal and fifth-ranked Ferrer indicated after beating Argentina in the final earlier this month that they would be unavailable with 2012 being an Olympic year, which has compressed the calendar. Doubles players Feliciano Lopez and Fernando Verdasco also said they may not be ready to step in so regularly, either.

Led by Nadal, the four players have been regulars in Spain's squad and helped it win three titles in the last four years.

Corretja signed a two-year deal on Tuesday to replace Albert Costa, who led Spain to a second title in three years in charge earlier this month. Corretja's first tie will be against Kazakhstan on home clay in Ovideo from February 10-12.

Tenth-ranked Nicolas Almagro and Marcel Granollers are expected to step in to lead the team after playing supporting roles over recent seasons.

"The team will depend on how the players look and how motivated they are," Corretja said. "What I want to see is a lot of desire, that every player wants to be part of this team and be motivated about being part of the best generation in the history of Spanish tennis."

Corretja helped Spain to its first Davis Cup title in 2000 as a player, and the country has gone on to dominate the competition after also winning in 2004.

The 37-year-old Corretja was ranked as high as No. 2 as a player and reached the final at Roland Garros in 1998 and 2001. He worked as a part-time coaching consultant for fourth-ranked Andy Murray until March.

"This is a wonderful moment for me personally and professionally," Corretja said. "And I want to bring all of my experience from Spanish tennis, from what I lived as a player and afterward when I worked as a TV commentator and coach to Andy Murray, an experience from which I learned a lot and helped me take this decision."