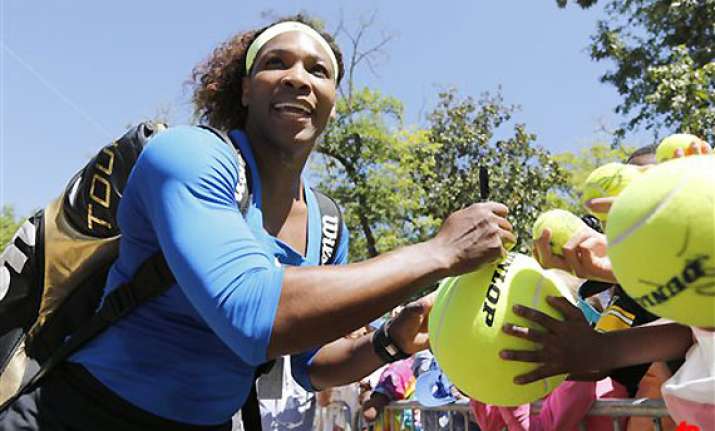 Kharkiv (Ukraine), Apr 20: Possibly looking more toward the Olympics than the Fed Cup, Serena Williams will play overseas for the United States on Saturday for the first time in more than a decade.
The 13-time Grand Slam champion will lead the Americans against Ukraine this weekend in the best-of-five playoff series on clay. But the Olympics, where Williams has won two doubles gold medals but failed to win anything in singles, are also on her mind.
"I think it is more huge for the media for me to win singles," said Williams, who will face 17-year-old Elina Svitolina on Saturday in the second singles match. "For me, any (Olympic) medal is great. If I win singles, it would be awesome. If I win doubles, it would be awesome. Or if I win mixed."
Players need to make themselves available to their national federation in order to be eligible for the Olympics. Williams, who first played for the American Fed Cup team in a 4-1 win over host Italy in July 1999, has only played in home matches since that debut.
Overall, she is 9-0 in Fed Cup play, including 6-0 in singles.
The Americans need to win to return to the top tier of the Fed Cup. Besides Williams, the United States will be represented by teenagers Christina McHale and Sloane Stephens, as well as Liezel Huber, the world's No. 1-ranked doubles player.
"It's great to have two great champions like Serena and Liezel playing on your team with the experience they bring and a lot of Grand Slam titles," United States Fed Cup captain Mary Joe Fernandez said. "And they share that (experience) with the younger members."
Ukraine will be without Kateryna Bondarenko, the country's highest-ranked player at No. 62, leaving the team with no player ranked in the top 100.
Before Williams, McHale will face Lesia Tsurenko on Saturday in the first singles match. The reverse singles will be played Sunday, followed by the doubles match between Huber and Stephens and Ukrainian twins Lyudmyla and Nadiya Kichenok.