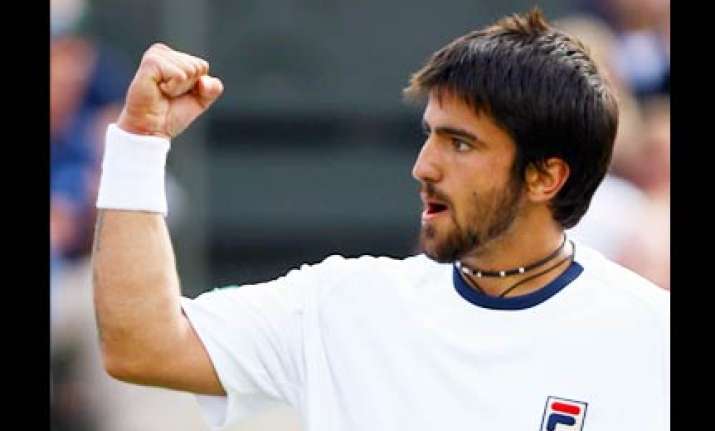 Washington  : Serbia's Janko Tipsarevic took advantage of Sam Querrey's mistakes and found his serve late to beat the sixth-seeded American 7-6 (3), 6-3 on Wednesday in the second round of the Legg Mason Tennis Classic.
Querrey double-faulted on break point to give Tipsarevic a 5-3 lead in the second set. Querrey's third double-fault of the match proved costly, as Tipsarevic served three straight aces in the next game to seal the match.
Tipsarevic had a first-serve percentage of only 39 in the first set but found his rhythm in the second, raising his percentage to 82. Tipsarevic totaled with 16 aces.
"I was making a lot of errors all match," Querrey said. "He was forcing me to go for a lot of shots. I was tired, so I was trying to end points a little sooner by going for some bigger shots."
David Nalbandian continued his strong return after a 3½ months off with a left hamstring injury. The Argentine beat seventh-seeded Stanislas Wawrinka 6-1, 6-3 to advance to the third round in his first tournament since losing in the quarterfinals at Monte Carlo in April.
"I feel good. Very good," Nalbandian said. "Today it looked like I'd played a lot of tournaments during the year with a lot of confidence. ... That made me feel good, because I don't need a lot of matches to be ready to play at a good level."
Also coming off a lengthy break was top-seeded Tomas Berdych of the Czech Republic, who beat Russia's Dmitry Tursunov 7-6 (2), 4-6, 6-1 in the night's final match. The Wimbledon runner-up hadn't played since that final in England a month ago.
Five seeded players were ousted Wednesday. No. 9 Ernests Gulbis retired after falling behind Illya Marchenko 6-1, 1-0 due to heat and Marco Chiudinelli beat No. 10 Radek Stepanek 6-1, 6-3.
Alejandro Falla advanced to the third round when Lleyton Hewitt, seeded 11th, retired due to a right calf injury while trailing 7-5, 3-2.
No. 8 Marcos Baghdatis of Cyprsu broke the pattern, advancing 7-6 (3), 7-6 (5) over Horacio Zeballos.
"He was playing really aggressive and I had to fight," Baghdatis said. "I didn't have my best form on the court, but I'm really happy I won. I found the solution."
Andrey Golubev, the 16 seed, also won 6-2, 7-6 (7) against Kristof Vliegen.
Querrey was coming off a string of tough matches that culminated with a tournament win at Los Angeles on Sunday.
It was the second time the two had met in less than a week. Querrey beat Tipsarevic in a tight three-set match featuring two tiebreakers in the semifinals at Los Angeles. Tipsarevic knew Querrey was struggling in the rematch when the American struck some of his second serves with his full first-serve power even before the tiebreaker.
"I said, he's getting tired, just hang in there and it'll come," Tipsarevic said. "And it did come. Winning a first point in a tiebreak on a guy's double-fault when he's trying to make an ace on the second serve shows you he's getting tired, and if you stay disciplined you have a bigger chance to win."
Tipsarevic had no problems with his service game. The Serbian player finished with 16 aces, and only lost six points all match when serving.
"I like to think of myself as one of the better servers out there for my height," Tipsarevic said. "But today was a little bit more than expected."
Querrey's big week also included a Tuesday morning tennis clinic on the White House lawn _ and a surprise appearance by President Barack Obama.
"No one saw him coming, he kind of snuck around," Querrey said. "It was pretty cool." AP