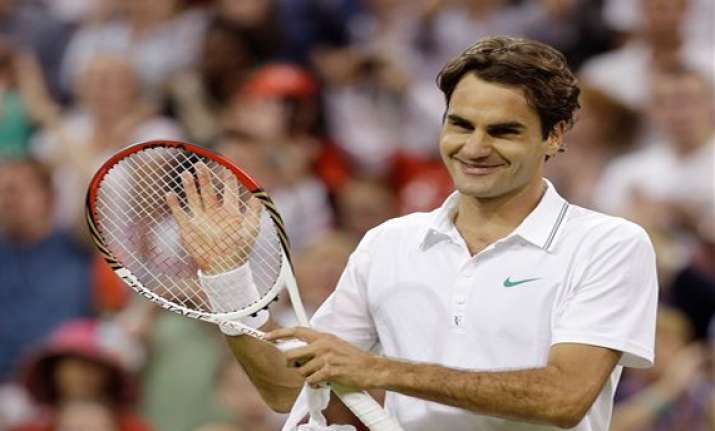 England, Jun 30:
Roger Federer overcame a two-set deficit Friday at Wimbledon to avoid his earliest Grand Slam exit since 2004.
The six-time champion found himself two points from defeat on six occasions but survived a tense fourth-set tiebreaker and beat Julien Benneteau in the third round, 4-6, 6-7 (3), 6-2, 7-6 (6), 6-1.
"It was a tough match," Federer said. Julien Benneteau"Oh my God, it was brutal. Obviously, a bit of luck, maybe, on my side. Who knows? But I tried hard. I fought 'til the very end."
Federer avoided the fate that befell nemesis Rafael Nadal 24 hours earlier on the same Centre Court. Nadal, a two-time champion, made his quickest exit from a major since 2005 when No. 100-ranked Lukas Rosol beat him in five sets Thursday.
Benneteau had won his past four five-set matches, but this time he was the wearier player at the end, twice requiring thigh massages from a trainer for cramps during the fifth set. Federer cracked a forehand return winner into the corner to break for a 3-1 lead and pulled away from there.
A hobbling Benneteau appeared in tears before the final point, and he dumped his last shot in the net. Fans roared as a grinning Federer gave them a triumphant wave.
"He proved he is great. The greatest," Benneteau said. "Mentally he's a rock. He's two sets down, and he doesn't show anything."
Federer also erased a two-set deficit to beat Juan Martin del Potro in this month's quarterfinals at the French Open. He has mounted eight comebacks from down 0-2 in his career.
"The thing, when you're down two sets to love, is to stay calm, even though it's hard, because people are freaking out, people are worried for you," Federer said.
"You don't have, obviously, many lives left out there. You just try to play tough and focus point for point. Sounds so boring, but it's the right thing to do out there."