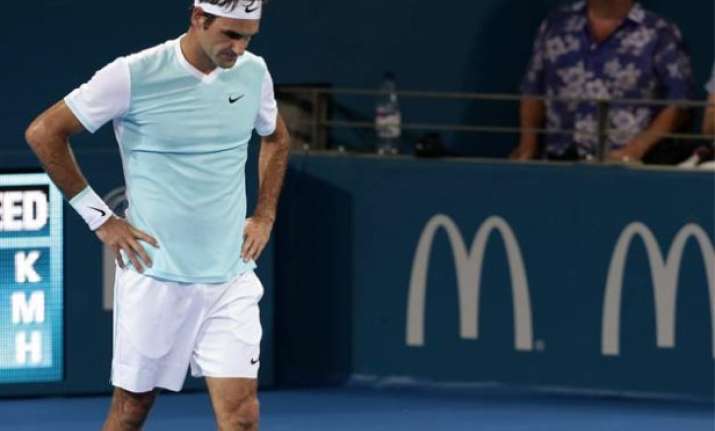 Brisbane, Australia (AP): Milos Raonic held his nerve and broke Roger Federer's serve once in each set to win the Brisbane International final 6-4, 6-4 on Sunday night, reversing the outcome of the 2015 decider between the pair.
Raonic attacked top-seeded Federer with his booming serve and forehand, as expected, but also went to the net 13 times in the first set and won 10 of those points to set him on course for only his second win in 11 matches against the 17-time major winner.
It was an eighth career title for Raonic, who missed the last three weeks of last season with a back injury, finished outside the top 10 and who lost his coach Ivan Ljubicic   to Federer.
The No. 14-ranked Raonic was seeded fourth in Brisbane, where he lost in three sets to Federer in the 2015 final.
Now the 25-year-old Canadian is the only player born in the 1990s to have beaten Federer twice.
Federer, who went 6-5 in finals in 2015   with all five losses coming to top-ranked Novak Djokovic   struggled earlier in the week with lingering flu-like symptoms, but improved with wins over Grigor Dimitrov in the quarterfinals and Dominic Thiem in the semis.
He started strongly, adding some pace to his serve and trying to work the taller Raonic around the court, but couldn't make the strategy pay off.
The match was on serve until the ninth game when Federer served a double-fault to give Raonic a breakpoint chance and then netted a forehand to concede a break.
Raonic served out the first set, but needed a medical timeout for treatment on his right leg in the second set after the third game, which Federer held to lead 2-1.
He fired four double-faults in the next game, giving Federer a breakpoint opportunity, but managed to hold to level the set at 2-2.
In the next game, after leading 30-0, Federer gave Raonic another breakpoint chance when he went narrowly wide with a forehand down the line and then conceded the break on the net point when he netted a backhand.
Raonic didn't have any trouble holding from there, and wrapped up the match in 1 hour, 27 minutes in a confidence-boosting victory just over a week out from the Australian Open, the first major of the season.
"Hopefully, a better year this year than last," said Raonic, who reached the quarterfinals at the last Australian Open but didn't progress past the third round at Wimbledon or the U.S. Open after skipping the French Open with injury.
Federer has played the tournament three times, reached the final three times and picked up one title. Still, the four matches will serve as good preparation for the Australian Open.