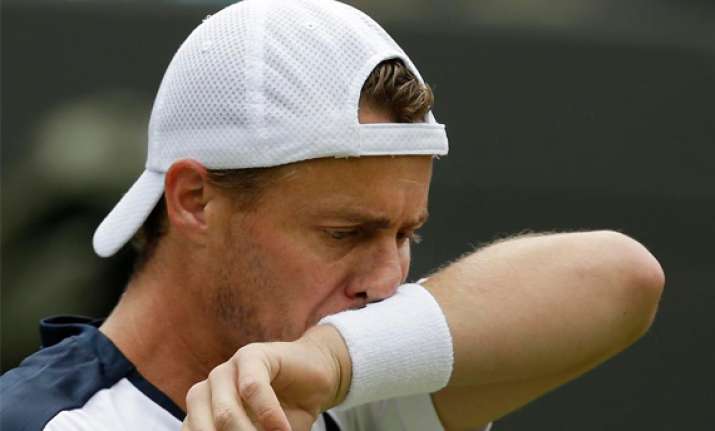 England, Jun27: The boys from Down Under are down and out at Wimbledon.
For the first time since 1938, no Australian man will be playing in the second round of Wimbledon after 2002 champion Lleyton Hewitt, Bernard Tomic and Matthew Ebden all lost on Tuesday.
"Obviously, the boys didn't have the best day today," Hewitt said. "But at least the three of us, the three guys that played today, I know we could have beaten a lot of guys that are still going in the tournament. That's just how it falls."
Tomic was the biggest Australian hope after reaching the quarterfinals last year as a qualifier, but lost in four sets to Belgian wild card David Goffin. Hewitt was a wild card for the first time in his 14th Wimbledon appearance and was overpowered in straight sets by fifth-seeded Jo-Wilfried Tsonga.
Ebden was eliminated by Benoit Paire of France, while a fourth Australian man, Marinko Matosevic, lost to Xavier Malisse on Monday.
Hewitt had not lost in the first round at Wimbledon since 2003, when he was the defending champion, but said the depth in men's tennis is getting better.
"I reckon you saw a lot more comfortable first-round wins in slams and even Masters Series events years ago than you do now," Hewitt said.
The list of Australian tennis greats includes players like Rod Laver, John Newcombe, Pat Rafter and Pat Cash, but Hewitt has been his country's main star for the past 10 years.
While few had expected the 31-year-old Hewitt to overcome Tsonga, the 19-year-old Tomic entered the tournament seeded No. 20 after making a name for himself last year at the All England Club. He became the youngest man since Boris Becker in 1986 to reach the quarterfinals, beating No. 5 Robin Soderling along the way before falling to eventual champion Novak Djokovic in four sets.
This time he came up against a player who made a similar splash at the French Open. Goffin was a lucky loser at Roland Garros this year, making it to the fourth round, where he won the first set against Roger Federer before losing the next three to the former top-ranked Swiss. Goffin was making his Wimbledon debut and beat Tomic 3-6, 6-3, 6-4, 6-4.
"To see what you did last year and to lose first round is difficult," Tomic said. "But there's a reason why I lost, I have to say. I think I lost because he played much better and I wasn't playing the right tennis. No excuse."
Tomic said he was a sick for a week in the lead-up to the grass-court Grand Slam tournament and that he will take a few days off to "get back on track."
"My tennis wasn't where I wanted it to be," he said. "I was upset with my game today, the way I was playing. I couldn't execute my shots."
Hewitt has been a constant presence at Wimbledon for more than a decade, but the 31-year-old needed a wild card this year having fallen to 202nd in the rankings after struggling with injuries. He lost in the second round last year, and said he wasn't sure whether he'll get another chance to play in the tournament.
"I don't know," he said. "At the moment I've been focusing on getting back this year, doing everything right with my foot and rehab to get back to here. So I'm proud of myself of what I've been able to do, all the hard work it's taken to get here. I'd like to be back here, absolutely, but we'll have to wait and see."
Hewitt and Tomic will be back at the All England Club next month as part of Australia's team for the London Olympics.
"At least I get to play here again," Hewitt said. "It's a bonus."