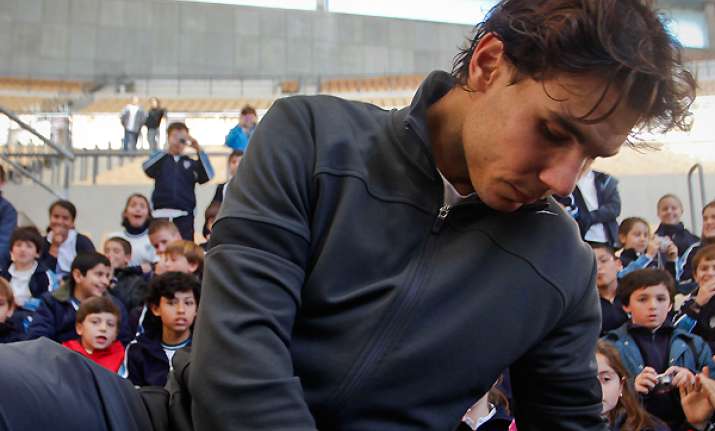 Seville, Spain, Nov 29: Rafael Nadal is tired but still motivated to lead Spain in its attempt to win a fifth Davis Cup title against Argentina.

Spain's top-ranked player had provoked alarm in his home country last week when he said he felt "less passionate for the game" after being eliminated from the ATP World Tour Finals.

Following a practice session for the Davis Cup final which begins Friday, Nadal said Monday that his words had been exaggerated.

"Things get blown out of proportion very often because conclusions are drawn far beyond the meaning of what's said," Nadal said. "It's true that this season has been tough. More than a lack of passion, it is a weariness from many years of playing at this level, week after week.

"The important thing now is to work each day at 100 percent with the excitement needed to win the Davis Cup."

The contest is a repeat of the 2008 final, when Spain won 3-2 on a hard indoor surface in Argentina despite missing Nadal because of injury.

This time Nadal will lead a Spain team on the clay surface at Olympic Stadium which includes the fifth-ranked David Ferrer and probable doubles partners Feliciano Lopez and Fernando Verdasco.

Argentina is seeking its first title in four attempts. Juan Martin del Potro and David Nalbandian could face Nadal and Ferrer in the singles rubbers.

Juan Monaco, Juan Ignacio Chela and Eduardo Schwank fill out Argentina's provisional squad with captain Tito Vazquez needing to trim his team to four players before the Dec. 1 draw.

"They have great players, all of which stand out on the circuit, so the only thing we can do is concentrate on reaching the final as prepared as possible and then hope our rivals don't have an inspired weekend," Nadal said.