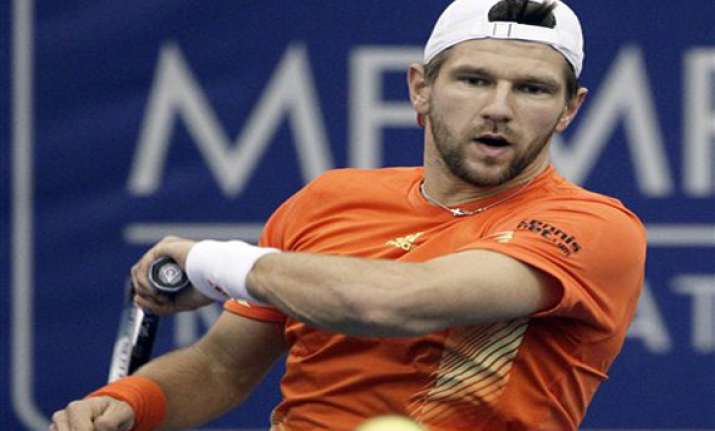 Memphis, Tennessee , Feb 25 : Jurgen Melzer, playing with a broken big toe on his right foot, upset top-seeded John Isner 6-3, 7-6 (6) on Friday in the quarterfinals of the Regions Morgan Keegan Championships.

The Austrian, who broke his toe a week earlier in his hotel room, has won three straight matches at The Racquet Club to reach the semifinals. He will next play Radek Stepanek, a 7-6 (5), 6-0 winner over American Sam Querrey.

Milos Raonic of Canada is set to play Belgian Olivier Rochus later Friday, with the winner to play a semifinal against the winner of the following match between Lukasz Kubot of Poland and Benjamin Becker of Germany.

On the women's side, Marina Erakovic of New Zealand beat Vera Dushevina of Russia 6-1, 4-6, 6-4 and will play Sofia Arvidsson of Sweden in Saturday's Memphis International final. Arvidsson defeated Alberta Brianti of Italy 6-3, 7-5.

Arvidsson is a previous winner in Memphis while Erakovic will be looking for her first WTA-level title.

Isner came in as the top seed in a tournament for only the second time in his career. He was 6-2 this year and ranked 13th in the world, and the 6-foot-9 American had served up 48 aces while winning his first two matches.

Now, he's leaving Memphis still looking for his first title of 2012.

"I don't feel like I lost this match today," Isner said. "He won it. He was better than me, and he deserved it. He played really well. That's all there is to it. I just ran up against a guy who's clicking on all cylinders."

Melzer has three titles in his career and is working his way back toward a top-10 ranking after back troubles last year. He's playing well enough this week that not even the toe he caught up in a bedspread is bothering him.

"It's very nice to beat the top seed, but for me it's more important that my game is getting better," Melzer said.

"My body holds up. ... I had a lot of troubles with my back last year. It's nice to be able to play pain-free on the court, putting the toe aside. OK, that's going to heal, and going out there especially when there's an important point. I have been playing well this week. That's what made me top 10 in the world and (I'm) trying to do that again."

Melzer said he saw the ball very well from the start Friday, and he got the jump on Isner by breaking him in the first game. Melzer also broke the American to close out the first set.

Isner at least got to the tiebreaker in the second set, saving two match points down 4-5 and trailing 15-40. He used his serve, including three of his 11 aces for the match, to hold. Then he wound up losing his first tiebreaker this year despite having a set point and a chance to extend the match to a third set.

"He just played good points," Isner said. "On the match point, he hit a return off the back of the line. Hit that same exact return earlier when I was up 3-2 or something like that. He was just painting the lines a lot today, going for his shots, and they were all going in."

Melzer improved to 2-0 against Isner and he said he usually guesses where Isner will place his big serve — except on match point.

"I actually told myself, 'You don't guess. You wait and see if you can react.' And luckily for me, he didn't hit the line wide. It was more going into my body. I could connect well to the ball. When it left the racket, it felt pretty good. When he challenged it, of course you start praying. ... He came to the net and said it was good, so I was happy."

Stepanek came to Memphis after spending four days in bed at home in Florida sick and not practicing. Now he's back in his third semifinal at Memphis with his first win over Querrey in three matches.

The Czech was up 5-2 with a chance to close out Querrey in the first set. Querrey recovered to force the tiebreaker and was ahead 4-1 before Stepanek took over. He needed a moment to fix a contact lens, then won six of the final seven points in the tiebreaker.

That proved more than enough against Querrey, and Stepanek closed out the second set in just 15 minutes.

Querrey won only two return points in the second set and couldn't hold serve.

"He was not able to close out the tiebreak. (That) was in his mind a little bit in the beginning of the second set," Stepanek said. "That's where I took the chances and played aggressive and active and got the lead in the second set."