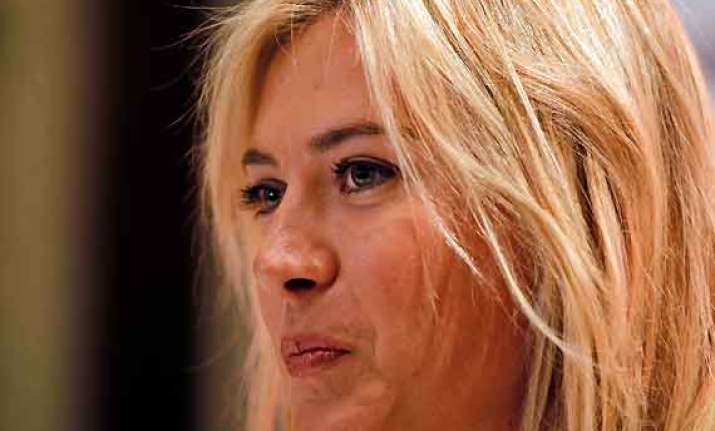 New Delhi, Nov 11: Maria Sharapova -- the name has oomph and glamour attached to it. When the four-time grand slam champion showed up in New Delhi Sunday there was that unmistaken mystique in the tennis majesty.
The six-foot-two World No.2 Russian expectedly turned heads when she walked in with an air of elegance. It's her first visit to the one-billion-plus nation where, she herself admitted, she has countless fans. She didn't forget to talk of the dosa (pancake made from the batter of rice and black lentils) she had and how nice it tasted.
"It feels amazing to be here. It has taken me so long to get to India. I have tremendous amount of fans in this country and it feels great to get such a warm welcome.
It has been a remarkable year for me and now I have a nice little break which has allowed me to come here," said Sharapova, who looked stunning wearing a blazer and a black skirt.
The 25-year-old, here to announce her partnership with UK-based real estate company Homestead, sported an infectious smile throughout the interaction even though the lensmen could not get to focus enough of capturing the blonde beauty.
"Well, it is just the hair and make-up you know. I don't wake up looking like this," quipped Sharapova when a scribe called her pretty.
Here only for a day, Sharapova said food and culture was something she would take back from India.
"I arrived last night and asked the chef what should I try of the Indian food. I had a dosa which tasted really nice. I wanted to have this great Indian experience. There is so much energy in the city, I have been in some quiet areas recently, resting. I really like the culture and people. You all have been really welcoming."
Asked she is looking at films and modelling as career options after tennis, the highest-paid women athlete said: "I really have no time for anything other than tennis now."
Sharapova promised to return to India soon and visit the Taj Mahal.
"This time it won't be possible (Agra visit). But as Christmas is round the corner, I would love to go to the market and get some souvenirs. I am sure my friends are going to expect something," she signed off.