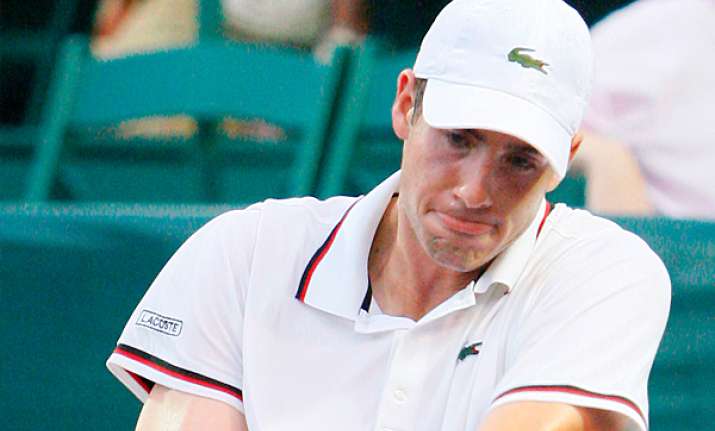 Houston, Apr 15: American John Isner will face Juan Monaco of Argentina in the final of the U.S. Men's Clay Court Championships after both came from a set down to win their semifinals on Saturday.
Isner defeated Spain's Feliciano Lopez 6-7 (5), 7-6 (4), 6-3 and in the process became the top-ranked American, moving to No. 9 in the world, leapfrogging Mardy Fish, who lost in the second round here on Thursday.
"Coming out of college, I never would've imagined (it)," said the big-serving Isner. "As I continued to improve, I knew that this was potentially attainable for me. Very thrilled to be the top-ranked American. Now, I have a my highest ranking ever, too."
The 26-year-old Isner is 20-6 this year, including victories over Roger Federer and Novak Djokovic.
Monaco defeated qualifier American Michael Russell 5-7, 6-1, 6-4.
Isner is 7-0 on clay this year, while Monaco is 10-2 on the surface, including a victory in Vina del Mar in February.
The second-seeded Isner will play in his first career final on clay. He's playing on tired legs after coming to Houston straight from Monte Carlo, when he won two matches to help the U.S. defeat France in the Davis Cup.
"I've just played a lot of tennis," Isner said. "I've been going a lot, but I know that win or lose (Sunday), I'll be able to rest and recover."
The 2.03-meter (6-foot-9) Isner has won 44 consecutive service games in Houston and used 13 aces to beat Lopez, ranked 15th in the world.
Isner seemed sluggish in the first set, though his powerful serves led to quick points. The American made the first critical mistake, missing a return on his serve at 4-4 in the tiebreak. He badly mis-hit another return and then netted a forehand to hand Lopez the set.
"I certainly wasn't feeling my best, at times, out there," Isner said. "It's fortunate for me that I can get through matches, not playing my best, feeling my best, because of my serve. Very lucky to have that on my side."
Lopez fired an ace to take a 6-5 lead in the second set, but Isner overpowered him with his serve in the next game, forcing another tiebreak. Isner won all of his service points in the tiebreak to even the match.
Isner led 3-2 in the third when he whipped a backhand passed Lopez for the first break point of the match. Lopez got only one more point on Isner's final two service games to lose for the first time in three clay matches this year.
"In the third set, I made a few mistakes with my serve, and that was it," Lopez said.
Monaco blew a 3-1 lead in the first set, and couldn't hold his serve with Russell leading 6-5.
He broke Russell's serve in the first game of the second set, and went up 3-1 again. Russell started the next game with a double fault, and netted a return at love-40 to trail 4-1. Monaco lost only two points the rest of the set to draw even.
Each player got an early break in the third set, and Monaco missed a backhand return to make it 3-3. Monaco won the next game with a forehand winner, but Russell held his serve at love to tie the match again.
Monaco closed it out from there, another important step as he prepares for the rest of the clay-court season and the French Open.
"It could be my best moment of my career," Monaco said. "This is important for me. For sure, my tennis is getting better."
The Argentine is close to earning his highest-ever ranking. He reached No. 14 early in 2008 before injuries to his left ankle and wrist stalled his progress.
"It's important," Monaco said, "but I'm not thinking all day about the ranking. I'm thinking about improving my tennis level. This is why I work every day, to improve my tennis a little bit. Then if I play good tennis, and win matches, the ranking will come along."