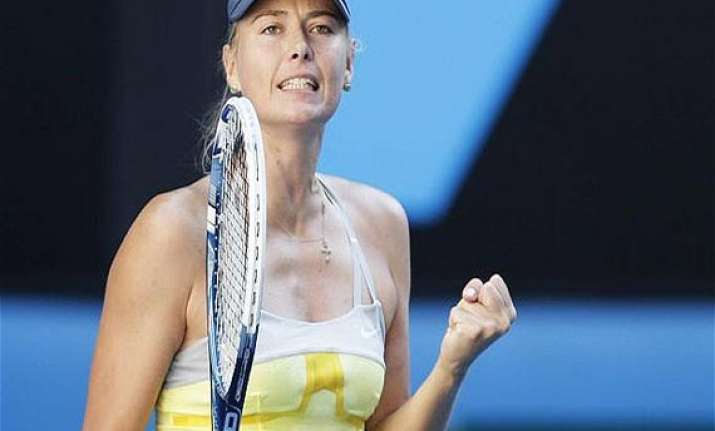 Paris, June 6: Defending champion Maria Sharapova overcame 11 double faults and earned a return trip to the French Open final with a noisy victory over Victoria Azarenka, 6-1, 2-6, 6-4 on Thursday.
Sharapova's opponent on Saturday will be either No. 1 Serena Williams or Sara Errani. Sharapova beat Errani in the final last year to complete a career Grand Slam.
The two most notorious grunters in tennis shrieked with nearly every swing, matching pitch and volume, while their shots were much less consistent. Sharapova hit 12 aces but was erratic with her second serve, and her groundstrokes were also unpredictable.
She needed five match points to seal the victory. Serving for the match for the second time, she held at love, finishing with an ace.
Following a 35-minute rain delay before the third set, Sharapova hit four double faults, the last of them on break point, to make it 2-2. She struggled again with her serve at 5-2, losing a tense, sloppy 12-minute game when she squandered four match points and double-faulted on the final two points.
She was steadier in the final game, however, and after accepting a cursory congratulatory handshake from Azarenka, Sharapova let out a final scream—this one in relief.
Sharapova improved her record at Roland Garros to 43-9, best among active women. That includes victories in her past 13 French Open matches.
Sharapova, who lost her opening set in the quarterfinals 6-0, started slowly again against Azarenka, the two-time Australian Open champion. Sharapova double-faulted twice in the first game and was broken at love.
But this time she quickly righted herself, temporarily finding the range with her serve and cracking ferocious returns. She won 22 of the final 26 points in the first set and closed it out with an ace.
Then Sharapova began to misfire, while Azarenka found her timing. Consistently stepping into the court and whacking groundstrokes close to the baseline, Azarenka swept the final four games of the second set to even the match.
Next came rain, and when the match resumed, both players struggled to find any rhythm. The tennis was louder than the crowd in the third set, when subdued fans quietly endured a flurry of errors—forced and unforced—by the two big hitters.